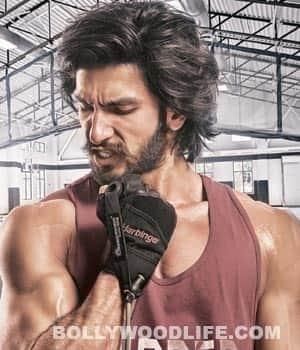 skip advertisement
The actor will be seen in a hardcore muscular avatar in Ram Leela. And he recently revealed what's the secret behind his deliciously lean frame
Ranveer Singh, who is accused of being a Casanova time and again, has had absolutely no time for love, lust or anything of that sort of late. The actor is extremely busy trying to make his body look like steel, for Sanjay Leela Bhansali's Ram Leela, and he's doing so with great grit and determination, we hear. And if the 'made in heaven torso' distracts you, look at his face, and you might mistake him for a junkie or a ship-wrecked sailor who has had a tough time surviving on the sea for months. He looks like a perfect combo of a Greek God body and Tom Hanks' scruffy face from Cast Away.
But as we go raving about his toned upper bod, he spills the beans on how he has achieved this kinda awesomeness. It seems that the actor who was a huge fan of 'functional training' at one point in time, has now converted himself into a 'drastic transformation programme' lover. We hear many Bollywood celebs, including Hrithik Roshan (whose trainer is an inventor of this programme), indulge in this fitness routine for a leaner bod.
Ranveer emphasizes how being lean is the new cool thing, and being beefy so passé. But the actor also stresses on the importance of being mentally strong. Case in point is that despite his rigorous shooting schedule for Ram Leela, he takes out time for his DPT…err…DTP routine, whatever that is. We think after a while, Mr Singh will let his corrugated abs do the talking. Good for us, we don't have to see his face covered with a bushy moustache and an unkempt beard anymore!