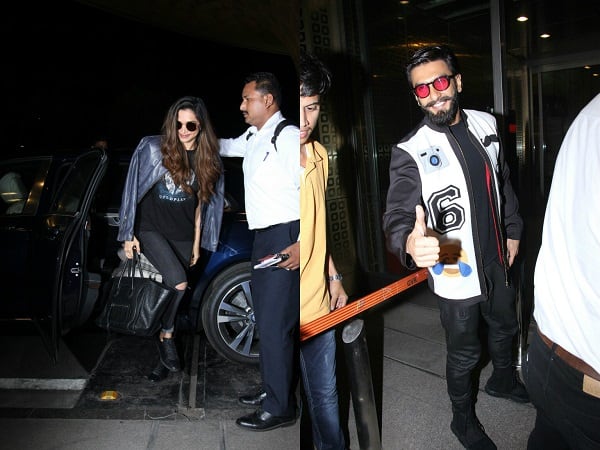 Ranveer Singh had quite a hectic day. He was all over the city promoting Befikre, with the leading lady of the film Vaani Kapoor. Finally, Ranveer will get to spend some quality time with the leading lady of his life Deepika Padukone. The two actors left for Dubai in the wee hours of the night, and like always their airport fashion statement was on point. Ranveer looked uber cool in his white and black bomber jacket, which looked it had been specially customised further for his taste. He paired it a black T Shirt and red goggles! And Deepika was looking chic, even in her casual jeans and Tee, black sneakers, and untied hair. The touch of style came with the blue leather jacket that she was simply carrying on her shoulders. And of course her recent favourites, those round black sunglasses.
Deepika and Ranveer will be attending the Esquire Awards 2016 in Dubai. Get ready for another smashing royal entry and exit of the couple at the event. Remember just a few days back when the two of them made an exit from a party holding hands. We are hoping more of that is coming our way.
We need a moment to address the funky prints on Ranveer's bomber jacket. He is flaunting emojis such as the laughter one and camera, and also there is a moustache. Then there is a flower – Ranveer and his love for floral prints is so cool. But the quirkiest print is the number printed on his jacket – 6 and 9. We will leave it there.
Ranveer recently appeared on an episode of Koffee with Karan with Ranbir Kapoor, and was subject to a lot of questions about Deepika. The episode was chilled out and had loads of hilarious moments. There are rumours floating that Deepika Padukone will appear on the popular chat show with her xXx: Return of Xander Cage co-star Vin Diesel. Fingers crossed for this to be true!