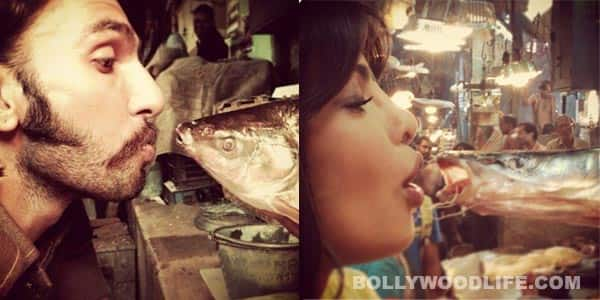 The two singletons really need to start seeing someone who they can kiss, indulge in PDA and get all romantic with, and leave those dead fishes alone
Gunday directed by Ali Abbas Zafar has an interesting starcast with Arjun Kapoor, Priyanka Chopra and Ranveer Singh sharing screen space. The shoot is taking place on the 'throbbing with life' streets of Kolkata and you definitely can't miss those fun moments. So it seems for a particular scene, Ranveer and PC were supposed to kiss a fish – the staple diet of the Bengalis. What's funny is the Chopra going all 'awww such a cute fish,' with that passionate expression of hers, while RS seems to be enjoying every bit of the kiss. But if that's how he's planning to smooch his ladylove as well, then God seriously help her.
Looks like the cast is having a gala time in Kolkata, and of course lots of romance is happening with dead creatures. Sigh!