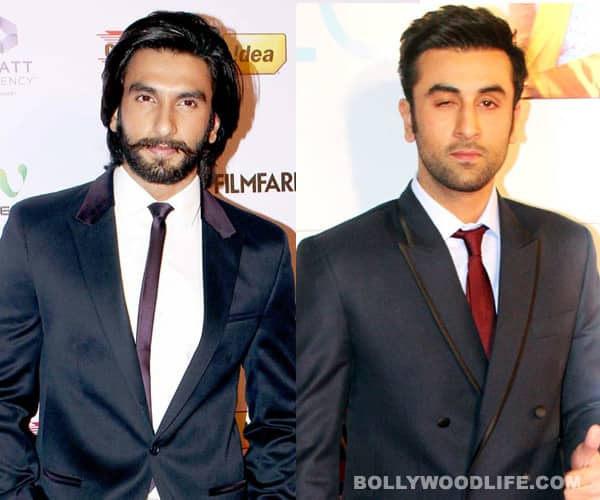 Ranveer declares that Ranbir is the only actor from the current crop who can compete with the highly established big boys of Bollywood. Why is the Lootera actor all praise for the Kapoor scion? We wonder…
In an industry where stars don't praise their contemporaries so easily (and honestly) here's Ranveer Singh going gaga about Ranbir Kapoor's acting potential. The Lootera really admires Ranbir's work and even appreciates the success he has achieved in the past five years.
We all know that Ranbir has created a niche for himself and consolidated his position as a powerful performer in the industry. Reiterating that point Ranveer maintains that Ranbir's success lies as much in his talent as it does in the brave choices he's made to reach the position that he is in today. "He (Ranbir) is making very brave choices and his performances are all fabulous. For all the young actors today he's clearly the benchmark," said Ranveer in an interview recently.
Ranveer's high praise for Ranbir didn't stop there. The dude maintained that after his incredible performances in films like Barfi! and Rockstar, the Kapoor lad is getting better at his craft and working hard towards the betterment of our cinema. "Amongst all of us right now he's the only one who is competing with the big boys. He's working for the betterment of cinema and most certainly keeping us on our toes," added Ranveer.
Now, we like Ranveer's generosity with his words for his fellow mate, but here's a word of caution! We thinks too much of sweetness… err praise is not exactly good for anyone. There's no doubt that Ranbir is a fantastic actor and he has a long way to go, but pitching him against the mighty Khans, Kapoors, Bachchans and Roshans will only add more pressure on his able shoulders. Let Ranbir just be and entertain us with his amazing talent. Competition after all is just a part of the game and the talented star has always taken it in his stride. Right, Ranbir?