Remember how they showcased immense liking for each other in the trailer as well as songs of their upcoming film, Befikre? You can throw all of that right out of the window 'cause here's some reality check for you! Ranveer Singh and Vaani Kapoor literally bicker like cats and dogs and this behind the scenes video shared by the official handle of Befikre is proof of the same. The makers of this romcom promised us that they'll be bringing about a lot of fun stuff from the sets and they surely are living upto their word. Earlier in the morning, they shared a picture where they celebrated 100 weeks of DDLJ in a cute tribute picture. We had exclusively told you sometime ago details of what's in store for us in this video.
Little did we know that there's a lot more nonsensical statements escape Ranveer's lips than we would've imagined. The most recent one being him asking Vaani why she farts while kissing. Only Singh can come up with such ludicrous statements and get away with it, courtesy his smile. Oh wait, did you think that was it? Soon after making a comment on his co-star's farts and kiss, he moves on and openly calls her a dragon when kissing. You might already know by now that in the film, the couple exchange 23 kisses. So obviously, they will have a say about each other's kissing style, right? Which is exactly what Ranveer did. He called her a dragon when kissing and he even gestures the same by saying, 'She's a dragon when kissing. A fire breathing dragon.'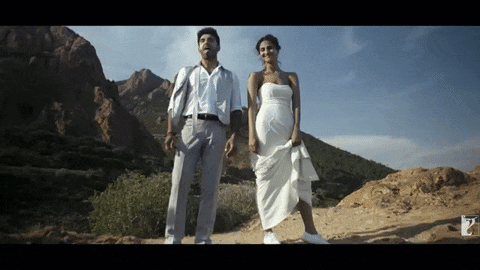 While their banter continues throughout the shooting, there were points where it seemed pretty evident that Singh was totally dissing Vaani in the funniest way possible. Their bickering is quite bittersweet, if you ask us. While they look super cute together, here's a side of Vaani that not many are aware of. All we remember her is from Shuddh Desi Romance where she was the pretty girl-next-door who was quite honest about her opinions. However, seeing this wild side of hers is quite fun. We've gotten used to Ranveer's insane energy so much that brother, you're like our energy drink when we're tired of working! Singh's sense of humour is also the kind to tickle your funnybones.
Perhaps his jokes may have not gone down too well with Vaani. As you watch the video, by the end of it, we hear her saying that she doesn't want him to talk to her for two weeks! That's right. The fart jokes may have stretched it a bit too much? But this is all in the form of a jest. We've already seen int their previous making videos that both Vaani and Ranveer are suckers for madness. They're so full of energy that it instantly brightens anyone's day. I may not know about others but after watching this funny video, a big smile sure crossed my face. You should just check it out and then tell us your thoughts in the comments section below.
Stay tuned to this space for exclusive deets on Befikre!