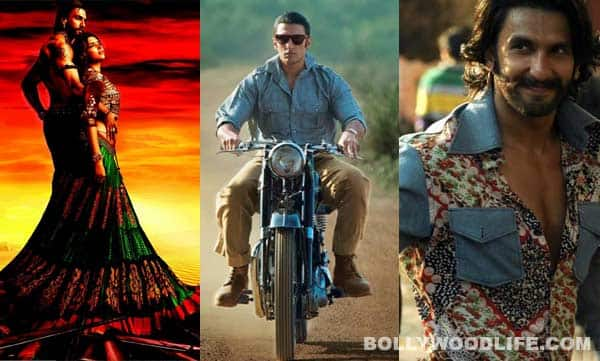 The actor will be seen sporting three interesting looks in his upcoming films Lootera, Gunday and Ram Leela. And as he's pretty much in the news right now, we take a look at his diametrically distinct style statements
Ranveer Singh is a helluva firecracker. And the things that give this piece of dynamite that extra-sharp edge are his onscreen fashion choices. Recent buzz is that the makers of Lootera weren't very happy with RS arriving at the promotional event of the film in his Gunday avatar. But what's the poor chappie supposed to do – he has so much on his plate right now! Juggling promotions and shooting schedules, Singh is caught in the vortex of style, needing to look like the diehard lover, the retro gunda and the ethnic Gujarati lad, all at once.  But we must say he is dealing with all that multitasking pretty well; and why not – he looks like the kind of guy who has the stamina of a ten-year-old, after all.
But trust RS to pull off all kinds of looks with great confidence, especially the wacky ones. So don't be shocked if some day the lad appears in corkscrew braids and adds to our fashion woes by wearing a vibrant lungi along with that. He can go to any length to stay in character – even looking dreadful for the sake of the role. But we like this spicy enthu cutlet's fashion spirit. Let's see how far he is going to go in his upcoming films…
Gunday
He so reminds us of one of those taporis we see on the roadside. The vibrant, floral shirt, the dishevelled wavy hair…he is so retro and so low-street at the same time. He is like a mix of Amitabh Bachchan from Sholay and Aamir Khan from Rangeela. We like!
Ram Leela
The moustache stays the same as his whiskers in 
Gunday.
 The amulet and the love tattoo on his arm make him look 
pleasantly 
dehaati
. "I think it's a breakthrough for him to have been able to carry a look of a village gangster. We have seen him doing lovey-dovey roles, but his looks have not been experimented with. With this, he has taken a step ahead," says Blossom Lalwani, stylist for the likes of Nauheed Cyrusi and Shibani Dandekar.
Lootera
Ranveer
shocks us by appearing in a beret and presenting us with such a stylishly 
seedha-sadha
 avatar. There's something very poetic about his look, even though we aren't sure what his character is all about. The suspenders, the smooth 'n' slick gelled hair, the shoes….Singh is basking in romance and passion in his vintage style.