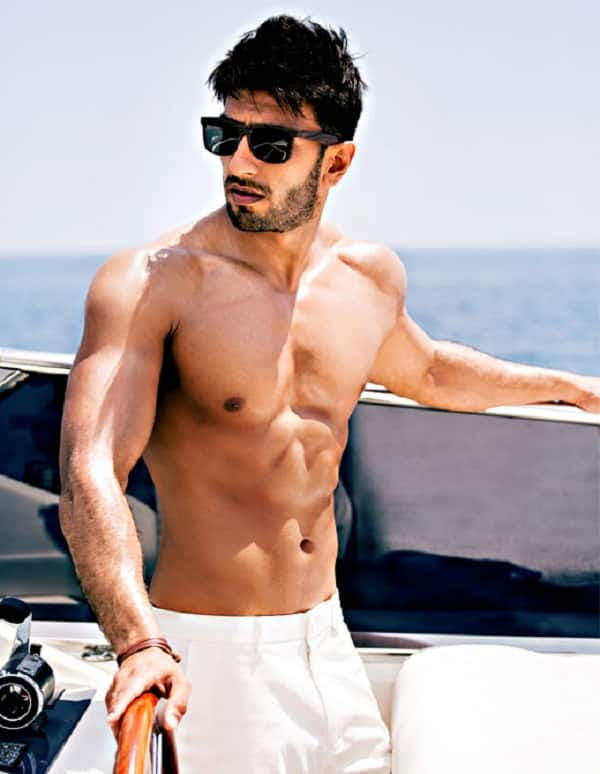 Ranveer Singh in Befikre is perhaps the best thing about the film. If his goofiness is chuckle worthy, his emotional scenes will make you clap aloud. This actor can just about do anything now. After watching him in a heavy duty period drama like Bajirao Mastani, his Dharam act in Befikre was a welcome change. The fact that he makes it look so effortless that it adds more zing to his character. Everyone would love to have a guy like him in their lives. And the actor likes to know how the audience reacts to his Dharam character in the film. Ranveer watched the film at the theatres with them! (Also read: Ranveer Singh gives Vaani Kapoor her biggest hit ever with Befikre)
Yes, Ranveer does that. The actor revealed, "I improvised a lot of the lines to add some humour and make the scene(s) flow naturally. Adi Sir was very receptive to my ideas and that made for some great collaborative scenes. That Dharam has charmed the ladies and that men have related to the character is a very fulfilling feeling. I have been watching Befikre in theatres with audiences every evening since the release and I must say that the experience is awesome unlike any other. To hear the audience sometimes giggle, sometimes chuckle and ever so often crack up with laughter is nothing short of blissful for me to witness first hand!" Everyone loves to get appreciated for their hardwork and Ranveer is no exception. No wonder that he got such unanimous praise for his performance in the film.
Sharddha Kapoor and Aditya Roy Kapoor's OK Jaanu

Two cute people meet in a new city, they are instantly attracted and they decide to pursue their relationship, but not putting it above their lives or careers. And they don't mind not wanting to bring their relationship under the scanner of marriage, just because the society wants them to. The original movie, featuring Dulquer and Nithya Menen, was a fresh take on how young couples wants to enjoy romance without putting a legal binding to it (though the conclusion goes to that path).

Image credit: Facebook

Ranveer Singh and Vaani Kapoor's Befikre

It's ironic that Aditya Chopra, who gave us DDLJ, also made Befikre – a urbane romcom that has a boy and a girl sleep on their first date itself. Starring Ranveer Singh and Vaani Kapoor, the movie was so anti-DDLJ, depicting live-in relationships, hookups, and disregard for parents' approval, before again treading to the path of every Bollywood romance.

Image credit: Facebook

Aishwarya Rai Bachchan, Ranbir Kapoor and Anushka Sharma's Ae Dil Hai Mushkil

Karan Johar's latest take on romance and friendship never takes the usual path of boy and girl finally reunites in the end. Despite Ranbir's character desperately want to start a relationship with Anushka's Alizeh, she still has a firm NO to that, even as she is on the verge of her death. Also, there is that no-strings attached relationship between Ranbir's Ayan and Aishwarya's Saba that only ends because she falls for her. And this is directed by Karan Johar, who gave us Kuch Kuch Hota Hai.

Image credit: Facebook

Kareena Kapoor Khan and Arjun Kapoor's Ki & Ka

Ki & Ka is the movie that gave us a new insight into relationships – they sent the wife to a corporate boardroom, while the husband was content with working himself in the kitchen. While I am not agreeable to the part that he gets himself tied a mangalsutra just to prove that point, R Balki's new movie gives a spin to modern relationships that's refreshing to the core.

Image credit: Facebook

Deepika Padukone and Ranbir Kapoor's Tamasha

Imtiaz Ali is known for taking an offbeat treatment for love stories, and his last movie, Tamasha, is no different from his style. It may be always be about a boy meets girl, but Tamasha was more about falling in love with yourself, than a usual boy-girl romance.

Image credit: Facebook
Bollywoodlife's reviewer couldn't stop gushing about Ranveer in the review. He wrote, "We have seen Ranveer last in a historical movie, and his upcoming film is a period movie as well. So it's great to see him play his age in a modern day romance. We have started seeing this from his debut Band Baaja Baaraat, that no one can nail the Delhi boy act as brilliantly as he does. He is screamingly hilarious in the scenes where he compares Paris' monuments to Delhi's, or when he mimics the actor after whom he is named or in the karaoke bar scene. But his one longing gaze after Shyra tells him that she is accepting a marriage proposal knocked it out of the park for me." Sigh!