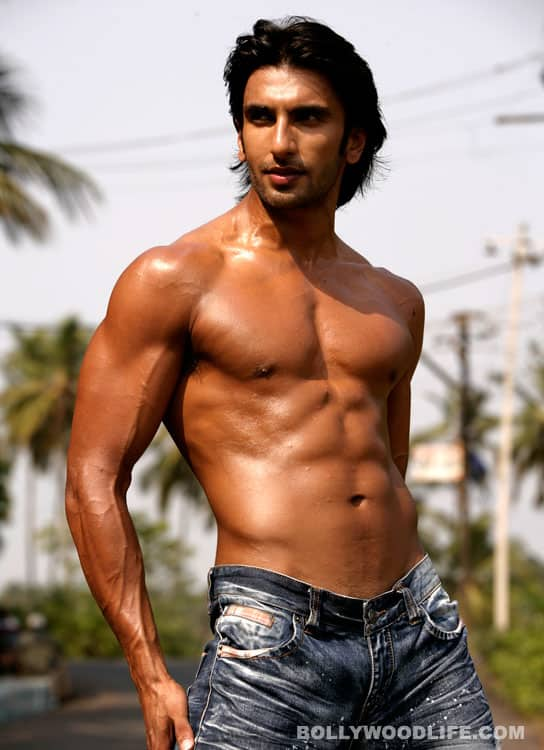 In 2010, a chap from Delhi came, saw and conquered. Exactly a year later, that young man, Ranveer Singh, is back with more experience, pressure, excitement and a new story in Ladies Vs Ricky Bahl
When Band Baaja Baaraat released, no one expected the film or its unusual hero to create an impact in B-town. But Ranveer Singh astounded everyone with his performance and simpleton charm. He now returns with a new film to increase his fan following tenfold as he dives in to the character of Ricky Bahl and charms his way into millions of hearts.
Bittoo Sharma became a household name, will Ricky Bahl be any different?
It's really nice to hear that Bittoo Sharma has become like a cult character, but Ricky Bahl is a very different personality. I had to go through extensive workshops to create space for other characters in my life and come out of the Bittoo Sharma phase. But that's what makes an actor. It's important to display a range as an actor; you cannot be stuck with one thing for the rest of your life if you want to sustain yourself in this industry. Hence it was essential that I establish it with my second film itself.
 So nowadays you are termed a 'Ladies Man'…
It feels absolutely great being termed a ladies man, but that doesn't mean I am a Casanova, at least not in this phase of my life. I might have been, but now I am a good boy. People tend to confuse the real me with the reel me. It was a thrill during my teenage years where I two and three timed girls, but that's a thing of the past.
So Ricky Bahl is a Casanova?
Not exactly! Ricky Bahl is a con artist and a charmer. His intention is not to hurt and play with the girls he meets, but to make easy money. Ricky Bahl is the same each time – he just alters his image according to the kind of woman he meets. Like for the spoilt brat of Delhi, he poses as a gym trainer. With the corporate gal of Mumbai, he dons the mannerisms of a frank and open-minded guy. While for the simple daughter of the cloth merchant from Lucknow, he becomes the down to earth and reclusive man.
Anushka Sharma and you together again…
We are really good friends. But while acting, we are what the story demands us to be. My on screen chemistry with Anushka is extraordinary. She has taught me a lot in acting. I used to be a nervous wreck during Band Baaja Baaraat and would have a tough time looking into her eyes for fear of forgetting my lines. But she helped me engage the character and taught me to be spontaneous. When we are acting, we get sucked into a trance and only when the director says 'cut' do we snap out of it. I truly believe she is the best actor among her contemporaries.
Onscreen, great chemistry, but off screen?
When I began my career, she was my only close friend. We are still great friends. We catch movies together and after shoot grab a meal together also. But beyond that, there is no other relationship. I mean, come on, look at her! Doesn't she deserve someone better than me? She is beautiful, intelligent and very independent. I honestly think she deserves Mr Right and I am not Mr Right now!
Your favourite con movie…
Catch Me If You Can is one of my favourites for its pace, Tom Hanks and Leonardo Di Caprio's performances and the language of the camera. It kept me gripped till the end. In fact, it was one of the films I studied for my role in Ladies Vs Ricky Bahl – not to ape it, but to explore the genre. Among Hindi con films I like Shaad Ali's Bunty Aur Babli.
 What according to you can make a con film perfect?
A con film ideally should be exciting, gripping and create a thrill. And Maneesh Sharma (director) ensured that the film was like a joy-ride. He never let the pace drop. Being a perfectionist, he ensured that be it the character or the script, nothing went overboard.
What's more important – box office collections or rave reviews?
I am just learning about numbers. But I do believe that it's very important, as it goes to only prove the amount of people who've watched the movie. It is easy to make a niche film, but a lot more difficult to make a mass entertainer. It's not an easy job to appeal to the masses from different demographics, all at one time. So I can't ignore numbers, but I cannot give importance to either one – both are equally important.
Are you open to multi-hero projects and working with senior co-stars?
The benchmark is set and any project that raises it, multi-star cast or not, I would be keen to do it. Yes, I have to be excited about the script, my role and the co-star.
ALSO WATCH