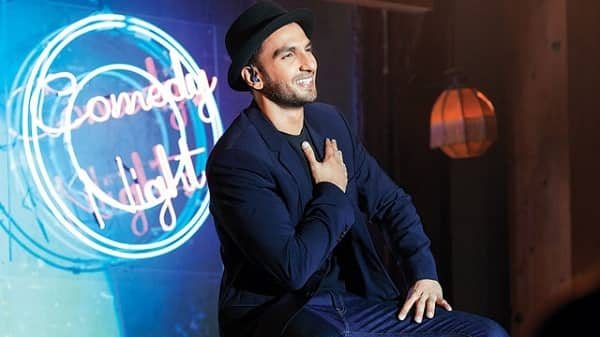 The last time Ranveer Singh was seen on the big screen he played the brave Peshwa Bajirao, and his next venture Padmavati will see him playing the tyrant ruler Alauddin Khilji. But between the two intense acts, his Befikre will see him raising laughs as a stand-up comedian.
A source reveals that the actor plays Dharam, a young stand-up comic who goes to Paris to perform at a friend's comedy club. Speaking about Ranveer's role, the source adds, "His friend owns a club called Delhi Belly. He invites Ranveer to perform a stand-up act that desis (Indian citizens and tourists) might enjoy. Dharam is a winner with the crowds. The happy-go-lucky guy enjoys every bit of Paris and is besotted by the free- spirited Shyra (Vaani Kapoor)."
Now, looking at his riotous AIB Roast with Arjun Kapoor, we're sure that the actor won't have any trouble recreating the same magic on the big screen.
Shyra on the other hand is a tour guide. "Shyra plays a professional tour guide who is of Indian origin and born and brought up in Paris. Adept in speaking Hindi and French, she takes Indian tourists through the beautiful sights and landmarks of the French capital. Her familiarity with Paris goes beyond skin deep and influences her life choices as a person," YRF's spokesperson confirms.
Befikre is a story that celebrates being carefree in love. A quintessential Delhi boy Dharam (Ranveer Singh) comes to Paris for work in search of an adventure. Just when he was about to embark on` this journey of his life he bumps into a wild, free spirited, French born Indian girl Shyra (Vaani Kapoor).
A feisty romance ensues between the two in which both of their personalities- one being an equal match for the other are tested to the limit. Battling their ups and downs, both realize that love is a leap of faith that can only be taken by those who dare to love.
Watch the video here –
Ranveer Singh and Vaani Kapoor imitate the classic titanic pose by the Eiffel Tower

The Befikre duo perfectly pull off the titanic pose in Paris as they feel on top of the world.

Ranveer Singh and Vaani Kapoor get splashed in this lively still from Befikre.

Ranveer and Vaani seem to enjoy getting splashed and we can't wait to watch more of them. This still from Befikre has got us all excited for the film.

Ranveer Singh turns up the heat with his Befikre look in this still

Ranveer Singh's shirtless still from Befikre has made our jaws drop. The actor looks irresistible in this avatar.

More stills and more kisses coming your way with this new poster of 'Befikre'

We are sure, you too won't be able to stop adoring Vaani and Ranveer in this one.

Image credit: Twitter

Vaani Kapoor and Ranveer Kapoor's latest still from 'Befikre'

Makers made Vaani's birthday even more special, sharing the latest still from her and Ranveer's movie.

Image credit: Twitter