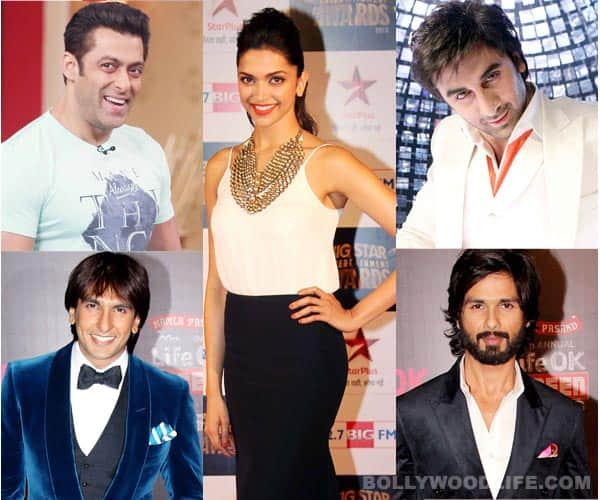 The Happy New Year actor has refused to come out in the open about her love relationships after her much talked about break-up with the Rockstar lad. But if she is single, as she insists, who would be the right match for her? You tell us!
Deepika Padukone is single. At least, that is what the actor has been telling the media and everybody else who wants to know. While industry insiders suggest strongly that she is romantically involved with her Goliyon Ki Rasleela Ram-Leela co-star Ranveer Singh, Dippy has maintained that she will not speak of her love or make a relationship official until she's absolutely sure about it and it has a future. So while we wait, we decided to pick possibles to be Ms Padukone's Mr Perfect. Take a look at a few Bollywood actors who might make a perfect match for Dippy – and vote to tell us who you think would fit the bill…
Salman Khan: The eternal bachelor of Bollywood is not looking for relationship or marriage, but you never know what will happen when true love strikes. Salman and Deepika have a lot in common – apart from the fact that the exes of both are dating each other, the Jai Ho dude and the Chennai Express babe are extremely good looking, successful and are members of the mutual admiration club. While Deepika is a self confessed homebird who loves to do chores and believes in homely values, Khan has said that he wants a gharelu gal. And they could have more to share, once they spend time together, hai na? But their love affair could jeopardise her special bond with Shahrukh Khan…unless of course Sallu's onstage dosti translates to off-stage bonding, of course.
Shahid Kapoor: While Sasha has been unlucky in love, he is very single, he says, just like the Ram-Leela babe. We remember when the duo came together backstage at the Star Guild Awards a few years ago. Sparks flew. Everybody wondered if the twosome would be seen on the silver screen. Considering the fact that Shahid shared a long term relationship with Kareena Kapoor (now Khan), Deepika could replace the Kapoor babe in real life just like she did in Goliyon Ki Rasleela Ram-Leela and may do in Bajirao Mastani. Perhaps Shahid could start dating the heroine No 1 again to boost his shaky Bollywood career.
Ranbir Kapoor: The Yeh Jawani Hai Deewani jodi moved on from their controversial, much-hyped break-up to romance successfully, but only onscreen. Both Ranbir and Deepika have put their pasts behind and moved on. Dippy has always said that she shares a special bond with RK Jr, while the Kapoor lad has talked about how fond he is of the Ram-Leela babe. While DP still has her RK tattoo intact, she has said that she should start thinking of something about it; their coming back together would mean that Ms Padukone can continue to flaunt her tattoo. We also hear that the Ranbir-Katrina Kaif relationship is in trouble, which means RK could be single again sooner rather than later. So is a reconciliation with the ex gonna happen?
Ranveer Singh: He has gone ga-ga about Deepika to the point that we hear that she had to issue a diktat for the Gunday actor to follow: no more loose talk, no more PDA. While many suspect that their real-life chemistry was only to promote their film Goliyon ki Rasleela Ram-Leela, buzz is that love is still in the air for the duo who recently secretly holidayed in New York. Their actions and pictures speak louder than their words and they have been spotted often in each other's company. Will their chupke-se pyaar make it to the mandap? We do have doubts, but let's see aage aage hota hai kya!