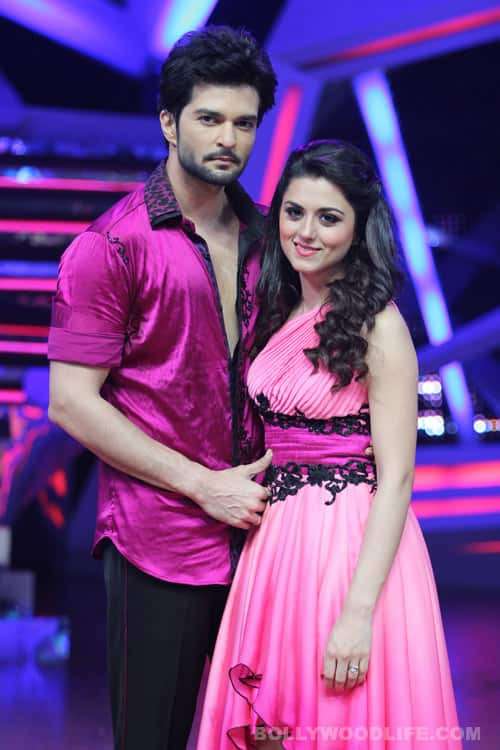 Along with a host of other jodis, Raqesh and Ridhi are working hard to compete for the trophy. And how did it all happen for them? We find out…
The star couple looks hot and sizzles onscreen, but somehow neither Ridhi nor Raqesh believes that. Ridhi Dogra, last seen on Life OK's Savitri, met her love – now husband – on the sets of Maryada…Lekin Kab Tak and something clicked. The two Virgos have similar likes and dislikes which helped them bond and then tie the knot when love happened.
Ridhi Dogra and Raqesh Vashisth talk about their love, their fights, their crazy wedding, about being part of the dance reality show Nach Baliye 6 and more…
Tell us about your love story….
Ridhi Dogra: Seriously, it was a very normal love story. I feel it was a cosmic connection right from the start.
Raqesh Vashisth: It was just meant to be. I have started believing in the conspiracy of the universe ever since we got together.
Watch video!
Ridhi: Why we say it's cosmic is 'coz on our wedding day we had an open venue and it started raining.
Raqesh: You won't believe it, but it was in the month of May.
Ridhi: It was a big lawn and we couldn't close it at that time. But by the time it was night, the weather was cool, like it was December. It was lovely evening wedding. Like God cleansed the earth so we could get married.
 Has life changed post marriage?
Ridhi: I think people marry 'coz they want to change their life and anyone who says that life hasn't changed, is lying. So yes, life has changed; we have become more responsible – we think for one another. We take all our decision together. If any one of us makes a mistake, we give the other an opportunity to improve. Tolerance and compromise is taught by marriage. You can ignore your family, but not your spouse. I will keep nagging him until he tells me what's on his mind.
How does it feel to be part of Nach Baliye 6?
Ridhi: It's very unnerving. In short, humara band baj gaya (we are screwed)!
Raqesh: We weren't prepared for this. It's like military training!
Ridhi: We just mentioned that the lifts are a little difficult to do, 'coz we don't have that body strength. The next day they started training us. Raqesh was told to take me piggyback on him, walk, squat, walk, squat. I was shocked! Then they asked me to carry Raqesh in the same way and I said no way, nothing doing!
Raqesh: It is not as easy as it looks; I feel like Milkha Singh, squeezing my sweat out every day at the end of the practice. It is very difficult.
Who is your biggest competition?
Raqesh: I think we are our own completion. To overcome our fear – I have stage fright, so for me to overcome that itself is the biggest challenge. I have a phobia of dancing. I am here for that, not for her. I am being selfish.
Ridhi: Yes, go be selfish! Dancing has been a hobby since childhood. I lost touch with my dancing after college; I have a tattoo of a ballerina on my back to remind me that whatever I do in life, I should dance through it. Nach Baliye in a way is like a dream come true for me. But the stakes are very high here. I can't use any shortcuts here; people know too much about dancing nowadays.
So do you disagree?
Ridhi: We have a common dream and objective. I believe we are able to understand each other better 'coz of Nach Baliye.
Check video!