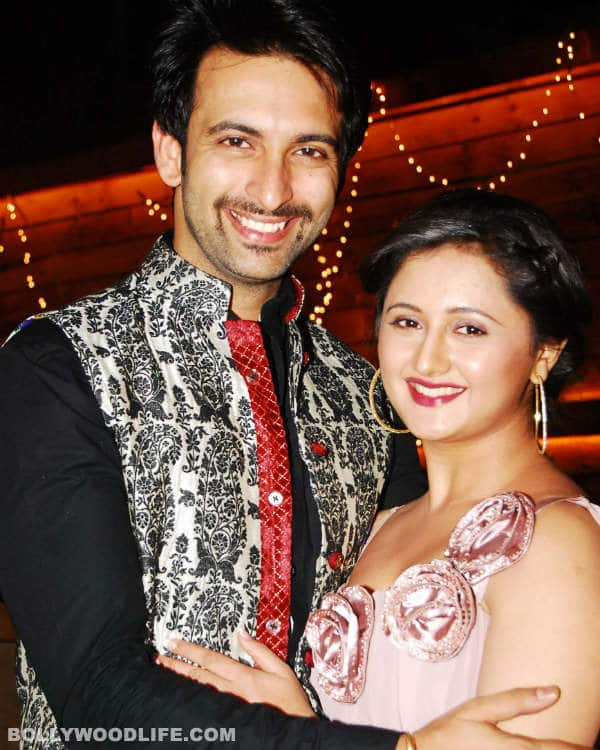 She is pretty, vivacious and a fabulous dancer. After her first stint in Uttaran, the actor took a long break for her wedding to actor Nandish Sandhu. And then Rashmi came back on the show and is a whole new person now…
Rashmi Desai Sandhu talks about what Uttaran means to her, her equation with Tina Dutta, her love story, life post marriage and plans for the future…
Has your return to Uttaran been satisfactory?
Yes, I am very happy to be back. They changed my character and it has been simply perfect.
Is the character change why you decided to come back?
No, it's not like that. I don't decide the script; the makers called me when they decided to make an alteration to the character. The change wasn't made specifically for me, it was the requirement of the script. I had taken a break because of my marriage. After that, I got a call from the makers saying that they were considering this new character for Tapasya and I took it.
You've played both good and bad on Uttaran. Which do you find better?
As an actor, I feel both the characters are good. But on a personal note, I prefer the good character, because when I played the evil Tapasya, I felt a lot of negativity. However, as an actor, playing a negative role is definitely more challenging. It is the negative character that brings about the variations and twists in any show.
How have your fans responded to the change in Tapasya?
My fans are happy. They love the character and the change in her.
How is your equation with Tina Dutta?
It's great. We have a good time working together. Tina is a good friend and actor.
There were rumours about Tina quitting the show. Is it true?
Honestly, I did not see anything like that on the sets. I have heard a few people talking about it, but then again rumours are mostly baseless. A while ago there were stories about how Tina and I constantly fight and cannot see eye to eye. Come on, do we really look that immature? Under normal circumstances, I never bother clarifying rumours. On the other hand, I wouldn't really know if she has done anything like that.
Tina and you were brought in together on the show – does it bother you that she gets more prominence with the double role?
No, it does not bother me. I am in fact very happy with what she is doing.
If Uttaran were to end now, what would be your next move?
Frankly, if I get something new, people would find out immediately. As of now, I am only concentrating on Uttaran.
Which show do you believe is Uttaran's biggest competition?
Every show is different. It is very difficult to nitpick, 'coz competition is there at every level.
Do you think Indian soaps are regressive?
No. From my childhood to now, I think television serials are changing drastically and it will continue to change with every generation. Today you have shows like Bade Acche Lagte Hain – you tell me, is it regressive?
What is Uttaran to you?
Uttaran has given me everything, both as an actor and in my personal life. It is a very important show for me. Uttaran is the first chapter of my life. All my good memories are connected with it. I saw peak time, made a comeback, met the love of my life…everything, on this show.
Will you and Nandish Sandhu ever work together again?
Definitely, if the script is compelling enough, we will take it on.
How has your life changed after marriage?
Before marriage, we were working and dating. Life was easy and simple. Post the wedding, we have become more mature and responsible.
What is your love story?
We liked each other, but we became friends first. My family liked him a lot and kept insisting that they wanted a person like Nandish as my life partner. On the other hand, his family also adored me and kept saying that they want a girl like me. The media had already begun hooking us up. We took it slow and decided to get to know each other first. I was waiting for him to propose, but he didn't. I stopped talking to him until he realised it.
You did Jhalak Dikhhla Jaa – are you open to doing more reality shows?
I love reality shows and I am currently doing Nautanki on Colors right now.
Last time we saw you in Dabangg 2… any other films on the acting plate?
Frankly, I never really tried too hard for it. Currently my focus is only TV.
Are you planning a family any time soon?
All in good time! Right now, I want to live my married life properly.
What is Nandish's special name for you?
He mostly calls me Shonu and I call him Baby, but it changes according to my mood.
What is it about Nandish that makes your toes curl and what irks you?
That is something very personal. But Nandish's anger irks me more than anything does!
If not a TV star, what would you be?
I think an air hostess.