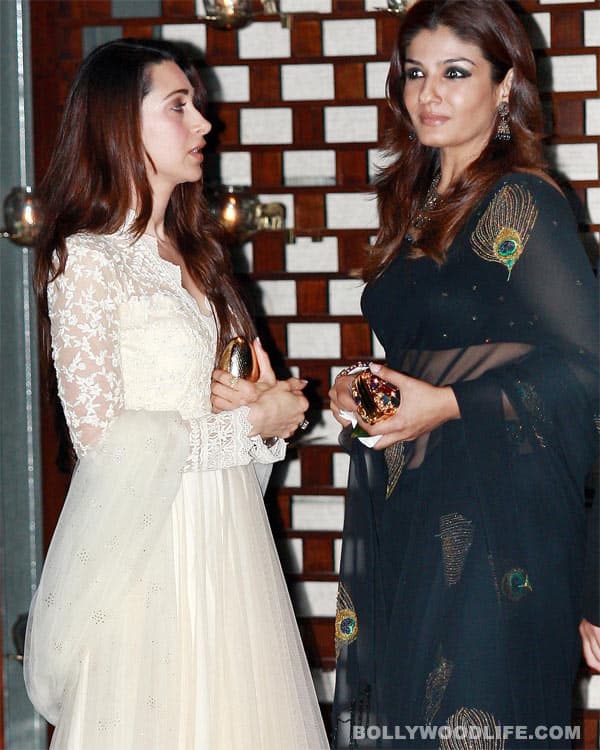 skip advertisement
The two actors made headlines in the early `90s for their infamous catfight over Ajay Devgn. But that was almost a decade back! Now their friendship has taken a turn… and that too for the better
Rumour mills in the `90s worked overtime churning out stories about the alleged rivalry between Karisma Kapoor and Raveena Tandon over the dark and handsome Ajay Devgn. The Mohra babe had accused Karisma of stealing her beau, resulting in a spat between the two. Since then, Raveena and Karisma have studiously avoided each other.
But what's this – a buzz reported that the two ladies were bonding pretty well over their tiny tots! Now that's news indeed, no? Incidentally, Raveena and Lolo's daughters study in the same school and so the two moms keep bumping into each other every now and then. Now in situations such as these, which mommy would like to visit bygones in front of her daughter, right? That's what made the two bury the hatchet, perhaps.
From the latest images and hot goss pouring in, we also hear that the two share more than just-cordial conversations. Talking about her brand new friend, the 'Sheher ki ladki' says, "Since our girls go to the same school, we end up bumping into each other and have bonded well. It's easier to hang out and discuss our kids," and adds, "I have known Lolo (Karisma) to be a go-getter. To see her as a fabulous mother and homemaker is a pleasant surprise." Now we're not sure what 'go-getter' hints at, but it's clear that Raveena didn't expect Lolo to tone down and become a docile housewife. Ahem ahem. And that surely makes us wonder what the Dangerous Ishhq actor has to say about this comment.
But we refrain from letting our imaginations run wild as we read between the lines, because who knows, it might just trigger off another cat-fight, no? For now, let's just bask in the (supposedly) warm friendship that the two ladies share. Wink, wink!
ALSO READ:
Amitabh Bachchan open to working with Rekha