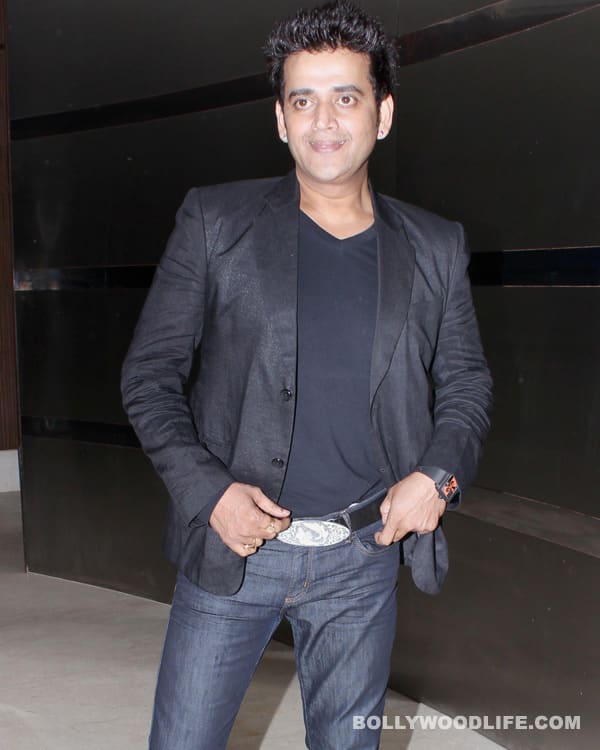 For the first time in his colourful career spanning over 20 years, Bhojpuri film's demi-god Ravi Kissen will be seen playing the solo lead in his forthcoming Bollywood release Jeena Hai Toh Thok Daal. In a candid chat over coffee Kissen talks about his journey to fame, his films and why he thinks that stardom will only humble him
For an hour Ravi Kissen has been standing in a corner of a sprawling hall in a suburban Mumbai hotel chatting about and promoting his upcoming thriller Jeena Hai Toh Thok Daal. The actor has already been bombarded with all sorts of weird, at times completely irrelevant questions by the frenzied television journos. But never for a moment has Kissen – totally decked up and overdressed like a superstar from the 80's – shown any sign of irritation.
After an hour of interaction with the media, he settles down to enjoy his cup of coffee. We are surprised to see that the man who is so hysterical with his over-the-top on-screen characters can actually be so calm and collected. "When you struggle in life and make it on your own terms, when you know that you have no godfather and your talent is your only credential in this fast-paced city, you do what you can in the best possible way. You tend to make the result irrelevant. I think that calms you. Also, I have inherited this calmness from my father. And one learns a lot about various facts of life – then you become focused and calm," he insists.
Ever-growing stardom
"Stardom is temporary and it can't spoil me. I know the truth – that it will go away one day. Success should not spoil anybody. We have seen the biggest stars getting caught in the trappings of so-called stardom. We have seen them fading away and being forgotten. Stardom is a temporary thing. If it goes to your head, you start giving in to vices like alcoholism and doing drugs. It happens with the biggest stars, not just from our film industry, but also in Hollywood. I think we should learn from the mistakes of yesteryear's superstars. It's normal to go away and be forgotten. What is important is to be true to yourself. You will go mad if you act like a star when the camera is not on. You can't act 24/7. That would be a foolish and even a dangerous thing to do. You need time to unwind to be your true self."
On Jeena Hai Toh Thok Daal
"I think it was the script of the film that attracted me to this project. It is very dark, solid, yet very humane. I think the character I am playing in this film – Chandrabhan – pulled me to this project. Chandrabhan is a contract killer. He falls in love with a girl he's on a mission to bump off. I liked the complexities of my character. The rustic nature of the film seduced me completely!"
Gaalis are good
"Oh, we have so many bad words and gaalis in our film Jeena Hai Toh Thok Daal!. Though it's not a deliberate effort, we are using gaalis just to show how a certain sect of people functions in society. How they talk and behave. I think expletives and gaalis are used to convey angst, frustration and depression. It is an emotional outlet. Aam zindagi main hum sab gaali dete hain. Zindagi jhandva phir bhi ghamandvaa – the famous line from one of my films was a gaali of sorts. Why create hoopla about it when we all use bad words so regularly?"
Dance and Jhalak Dikhhla Jaa 5
Jhalak was an experience of a lifetime. I am fortunate to have got the platform where I could be myself, dance the way I do and yet be a winner in the hearts of my fans. The different styles of dance I learnt on the show will come into play in the item songs I will do in my forthcoming films."
I am doing a song called Palangtod jawaani in JHTTD. This song may sound like Halkat jawaani, but it is different. I break palangs (beds) with my jawaani (youthfulness). In short, this song is explosive because of my jawaani, Halkat jawaani has no threat or competition from our dhamakedar Palangtod jawaani. My audience is completely different from that of Kareena's. Some songs are classy, some are massy – I don't know how to differentiate them, but I know that the market and demands differ for different products."
 On being choosey
"Yes, things have changed. Now I can say NO. Earlier, survival was important. Now after 20 years, I get the liberty to choose the work that interests me. There's a definite process now. I don't want to repeat myself. I get offers from reality shows, from Bollywood, regional films. This year I am also doing a Marathi film. Now the quality of scripts matters more than ever before."
Competing with Barfi!?
"No competition with Barfi! whatsoever! We are not here to fight. I am in my own space. I don't need to compete with Ranbir (Kapoor). Many people are also curious to know that why we are releasing Jeena Hai Toh Thok Daal on the same date as Ranbir Kapoor's much-talked about film Barfi!. I think good films sell. There are only two types of films – good or bad. No other categorisation works – classy or massy, small budget or big budget, commercial or parallel cinema. If your film is interesting intellectually and entertaining, it will sell."