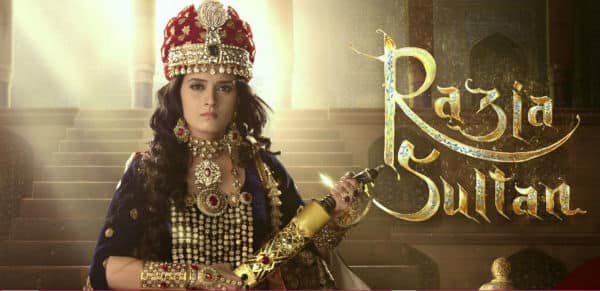 There was a time when television in India revolved only around the lives of joint families, Indian women and love stories. The serials were merely women oriented, trying to capture their day to day activities, in order to cater to their targeted audience. While these serials still continue, there is a definite change in the content airing on the small screen.
The saas-bahu sagas have now become less considerable thanks to the growing popularity of historic biopics. Yes, TV serials, mounted on a grand scale and based on the life of real characters, significant to the history of India, are in vogue these days. And so, Razia Sultan on &TV grabbed headlines for more reasons than just Shah Rukh Khan's narration. 
Latest one on the block is Razia Sultan, that aired on the newest General Entertainment Channel &TV. The first episode was telecast today and here's what I thought about it!
What's it about: Razia Sultan is an enamoring tale of Princess Razia, who was the first and the only woman emperor of the Delhi Sultanate and rose in ranks on her own merit. Produced by Swastik Production, the show portrays the progressiveness in the thought process and the grandeur of the era highlighting every nuance and intricacy involved.
What's hot: This epic story is a part of the Indian ethos, but unfortunately not many including me were aware of it. So props to the makers for bringing a fresh and different story on TV. The sets designed by Omung Kumar are elaborate and glitzy and the show is well packaged, never mind trifling details such as historical accuracy and authenticity. The actors Sooraj Thapar as Iltumish and Seema Kapoor as Shamshad Begum do a good job, especially with the diction and dialect.
The start where Shah Rukh Khan (narrator of the show) introduces Delhi from the current perspective and went back to the 13th century was just perfect. If the story is told in a simple, accessible, serialised, dramatic format on TV, so much the better. But given how Indian television works, I wouldn't be surprised they add fillers to increase the number of episodes or modify story using the benefit of doubt or interpretation.
The show is still in its early stages and the characters that have appeared so far haven't had a chance to develop properly. I am willing to give it the benefit of the doubt and watch some more episodes and you should too.
Rating:
out of 5

Reviewed by Vinod Talreja
* Poor
** Average
*** Good
**** Very good
***** Excellent