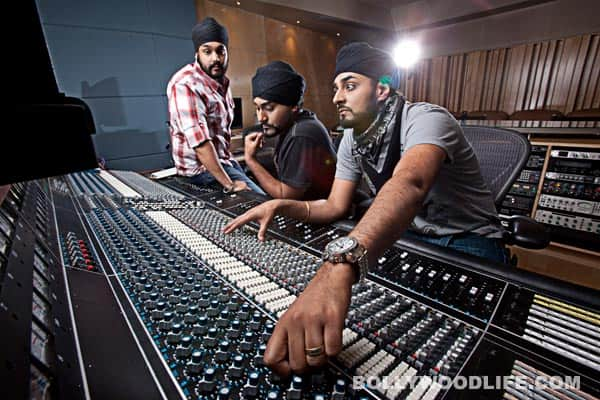 The British Indian Band RDB shares their music plans, the loss of their brother Kuldeep and jamming with rapper Snoop Dogg!
The first time you heard and loved their music was in the 2008 runaway hit starring Akshay Kumar Namastey London. Since the, in India at least , RDB's unique brand of songs which blend western grooves with Punjabi vocals became such a rage that most films in Bollywood based in or around Punjab and its culture featured their tracks. Some of the hits that featured their sons were Speedy Singhs, Tanu weds Manu and most recently in Yamla Pagla Deewana. In a quick chat with BollywoodLife, the band talks about the recent and shocking demise of their brother the talented musician Kuldeep Ral, the two remaining band members Manjeet Ral and Surjeet Ral talk about coming back to making music for Hindi films and their other plans related to Bollywood.
The last time you put together a track for a Bollywood movie was Yamla Pagla Deewana in 2011. Are you doing music for Yamla Pagla Deewana 2 as well?
We are still in talks, nothing finalised.
The loss of your band member and brother Kuldeep – how has that affected your music? And was that responsible for the hiatus you took from Bollywood?
After our loss with our eldest brother (Kuly) passing, we had an overwhelming amount of condolences and support from our UK Bhangra industry colleges, we therefore composed this track (We doin' it big) and shot a music video featuring cameo appearances from some of these top UK Bhangra artist.
Though RDB has been on the music scene in India since 2000, it hasn't seen the popularity of some of the more recent Punjabi rappers. Are you looking to experiment with rap as a genre too?
Our music is completely unique. We make our own RDB sound that is a new genre of Bollywood mixed with our traditional Punjabi styles and a whole load of mainstream beats, hooks and rifts. The RDB sound cannot be pigeon holed into one genre or category – it creates its own!
What sort of local talent have you worked with in India? Do you feel some of the contestants on singing reality shows are up to the mark when it comes to professional singing?
We have worked with various local artists in India. We have recently collaborated with a well known musician called Raftaar. Some of the contestants on these shows have distinctive vocals yet are not purely judged on their vocals but their appearance.
Although you have been cutting studio albums, your foray into the Indian scene has mainly been via Bollywood movies. Do you feel this would be a good time for an album in India?
We love working on all types of projects. We know our audience and believe strongly that when we are ready to drop an album they will embrace it. There are already plans for a release of an album this year so watch this space!
Who are your current favourite musicians in India today?
The talent is just immense it's hard to pinpoint a single artist.
What motivated you to set up a studio in India? Is this the right time to be part of our music industry?
India is our second home, we just love it out there and being part of a booming entertainment industry is something we would love to venture into.
Of all your collaborations, which was the most memorable and why? Tell us something about it that made it special…
We have enjoyed working with all artists, be it from the mainstream or newcomers. Snoop Dogg was definitely an enjoyable experience and he is a great person to work with and we were always huge fans
You are also set to compose the entire soundtrack of a Hindi movie for the first time. Tell us a bit about the project – how did it come about and how will you go about working on it? What kind of sound are you aiming for? Do you plan collaborations? We want to know it all!
Once we have the final tracks ready you will be the first to know. rest assured it will be a good mix of typical RDB bangers with a few soft ballads.