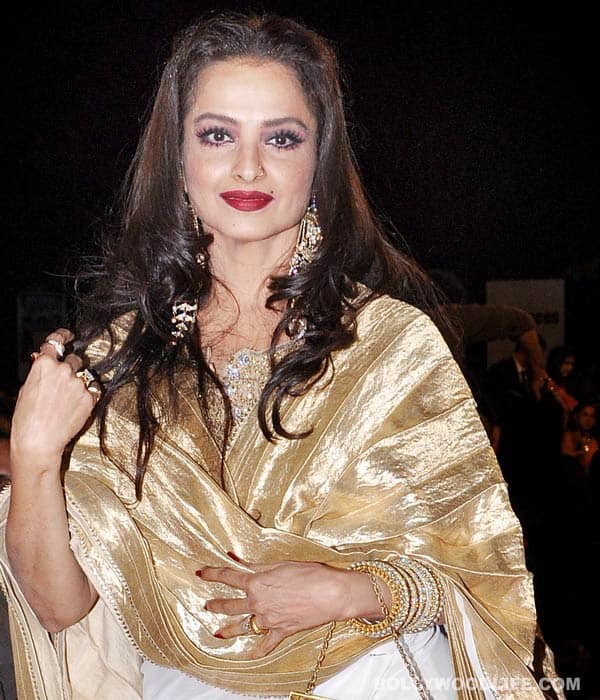 While everybody and his or her pet parakeet knows that Bhanurekha Ganesan, better known simply as Rekha or the Her to Him, is now a member of the Rajya Sabha, her actual swearing in ceremony was pretty darn interesting. Cineswami writes about it. Read on
As one would expect from the elegant actor, (except when she's cavorting with Akshay Kumar in C movies) Rekha was clad in a lovely pale gold sari while taking oath in the Rajya Sabha. Movie stars are used to be first among equals, even if they are 57 and their film careers are over, and Rekha is no exception. Therefore it was no surprise to see that of all the new inductees, she was the one to be called forth for the swearing in first. Clearly, the good producer of Doordarshan's parliamentary television crew has a sense of humour. Because, as Rekha was walking towards the podium, there was a quick cutaway to an extremely grumpy and frumpy looking Jaya Bachchan who, in comparison to her souten's elegance, looked like she'd been dragged through a hedge backwards. Her puffed up cheeks and glare put her in the same bracket as the disastrous Mamata Banerjee. Time to cut down on the maccher jhol, perhaps?
Anyhoo, Rekha's swearing in went thus: "I, Rekha Ganesan, having been nominated a member of the council of states, do swear in the name of God that I will bear true faith and allegiance to the Constitution of India as by law established. That I will uphold the sovereignty and integrity of India and I will faithfully discharge the duty upon which I'm about to enter." She then smiled through her dark lipstick, signed a large ledger and resumed her seat. All this while the dowdy Jaya glared daggers at her, no doubt thinking how her husband (Amitabh Bachchan) had also faithfully discharged his duty. Indeed, in her heyday Rekha must have caused many discharges, of duty of course, while Jaya excited nary an amorous glance. As a nation we now take our bitching right to the top. If our Lok Sabha MPs can throw chairs at each other, surely our Rajya Sabha MPs can have their little catfights about discharge volumes? And, as a wag said, now that Rekha is in the upper house, we have a full complement of Hema Malini, Rekha, Jaya Prada aur Sushma Swaraj and it's the correct time therefore to make a new Nirma commercial.
Meanwhile, our favourite movie star Shahrukh Khan must be ruing his luck. Every time he attends a Kolkata Knight Riders match, his team loses, but wins in his absence. He is better off switching allegiances to Chennai Super Kings. After all, his next film, UTV's Chennai Express, based on the illiterate Chetan Bhagat's unreadable 2 States, will have significant chunks shot in Dhoni's adoptive city. Or maybe not. Since Rohit Shetty is the director, he'll probably shoot it in Goa and call it Chennai. Not that his equally dumb audience, who make all his films hits, care. Actually, given the low IQ of Shetty's films, he should be making Salman Khan starrers. There's food for thought. Make mine a masala dosa.