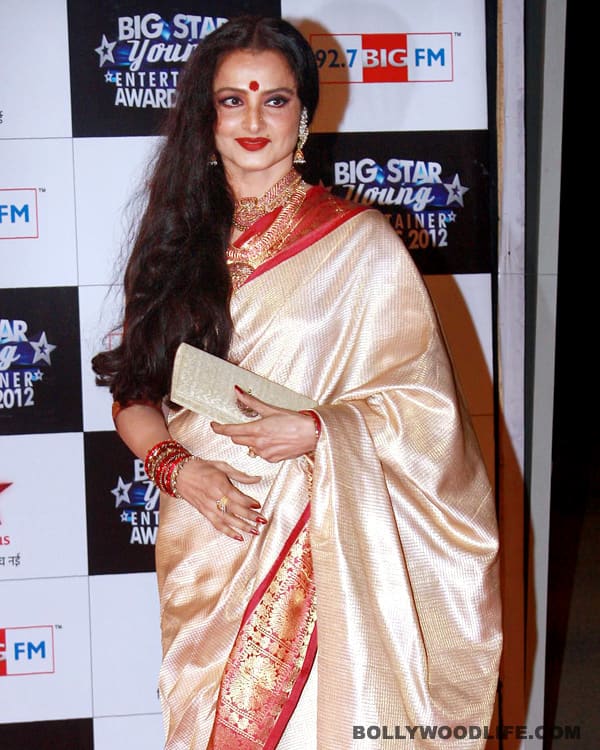 Is it the smorgasbord choice of onscreen avatars, her cryptic quotes or her enviable range of Kanjeevaram saris and chunky jewellery that made her Bollywood's first and perhaps the ultimate diva? We try to demystifying the rare and ravishing Rekha
Born on October 10,  1954 as Bhanurekha Ganeshan, Bollywood's Rekha turns a year older today. She may not be actively engaged in front of the camera anymore, but in her 40-year long career the beautiful leading lady has made an impact on people's hearts and minds that so far hasn't been matched. Will the Mukerjis, Kapoors, Balans, Singhs, Chopras et al oust the resplendent Rekha from her coveted seat? We don't think so.
Rekha's physical evolution from a shody-looking, plump and dusky starlet to the golden girl with head-turning style sense is largely responsible for her rise to the diva's status. Asserting the same, is an experienced name in the world of film journalism, Ex-editor of Filmfare, Rauf Ahmed, who shared a rare rapport with the 70s reigning queen. For those who don't know he was the first person Rekha spoke to post her husband Mukesh Agarwal's suicide.
Ahmed says, "In the late '70s she'd often fly off to Paris or some such destination to take a quick look at the latest in vogue. To be ever in vogue. No wonder she makes heads turn, pulses race and minds spin out erotic fantasies even today as a young actor vouched for."
Looking back to the diva's transformation, he says, "Rekha's metamorphosis is the stuff miracles are made of. As a topnotch glamour photographer once told me, "She knows everything there is to know about camera angles, colours, lights and compositions." She would insist on him placing a huge mirror behind him so that she could keep abreast of the compositions in relation to what is already filed in her mind. She never gets photographed before 2 pm. Because "when you wake up in the morning your face tends to be a little puffy due to sleep. It takes some time to settle down to normalcy, till bout 12 noon."
When such a beauty puts to use her brains, you expect fireworks, don't you? After a series of glamourous roles in blockbusters, Rekha stood out among in the crowded filmdom for the role of over-zealous and greedy wife in Do Anjaane. Then it was followed by a plethora of interesting, women-oriented roles (Ghar, Khoobsurat, etc). But what solidified her as an actor was Muzaffar Ali's Umrao Jaan. Rekha won the coveted National Award for the beautiful and emotional version of a courtesan. She followed it up with parts in arthouse cinema like Shyam Benegal's Kalyug, Govind Nihalani's Utsav and Gulzar's Ijaazat.
"The hyperbole apart, Rekha is not a great actress by any standards. But a very intelligent one. Give her a well-etched character and the detailed milieu in which it is located, she will come up with a brilliant interpretation. Like she did in Umrao Jaan, Ghar, Khoobhsurat and a few others! That explains a shocking inconsistency in her body of work," says the senior journalist.We agree that we have seen Bollywood's favourite Rekha in some dreadful roles, but nothing can mar the effect she had on her undying fans. "But nobody cares. The icon towers over all. When Mira Nair premiered her erotica Kama Sutra in the West, the question she was bombarded with was, "Who's that woman?" As Mira said, they were not talking about the two heroines but their earthy teacher, Rasa Devi, played by Rekha!"
Add to that the 70s reigning heroine's hide-and-seek with the media (one hears she rarely gave interviews, but when she did she was particular that journalists sent the articles/ interviews back to her before publishing it to ensure no erroneous reportage), her philosophically ambiguous quotes on life and love, and her little-known personal space added to the mystery surrounding the madamosielle called Rekha!