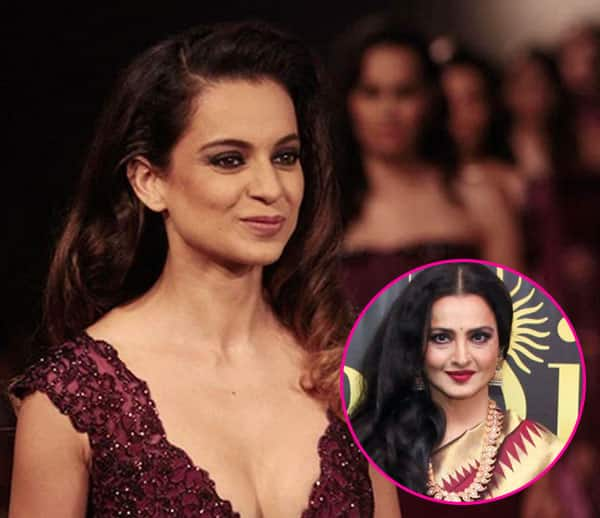 Kangana Ranaut is undoubtedly the queen of sass. The women speaks her heart out. While some might find her outspoken but she doesn't really give a damn and shuts all her haters with her power packed performance in every film. Everyone and anyone in B-town just cannot stop gushing about her acting skills right from Amitabh Bachchan to Aamir Khan. And the new one to join the list is Rekha, the ultimate diva of the industry. Yes we hardly get her glimpse, but when she steps out, she steals your heart. But this time she is bowled over by Kangana's acting and we don't blame her.
An entertainment portal has reported that Rekha is in love with Kangana and loves her every film, but her favourite one is Revolver Rani. Yes! We all thought that it might be Queen  coz that was her turning point in the career. But No, Rekha loved Kangana's performance in Revolver Rani. Well the film didn't perform well at the box office, but Kangana had nailed it with her killer SWAG in the film and we re guessing that Rekha just loved her bindaas attitude.
Currently, Kangana was seen prepping up for her role in Simran directed by Hansal Mehta, where she plays the role of an NRI who falls into trouble. Ms. Ranaut had confessed that this film is very emotionally challenging and audiences will get to see her new avatar. Apart from this film she is awaiting the release of Vishal Bhardwaj's Rangoon featuring Saif Ali Khan and Shahid Kapoor. This is the first time the trio will be working together and they have already become the talk of the town. Also while receiving the National Award for Tanu Weds Manu Returns the actress had claimed that she might get the award next year as well for Rangoon coz it's a very challenging role and she has gone all out for the film. Well Kangana we really love your confidence and admire it.
Also there were lots of reports that Kangana will soon be working with Shah Rukh Khan in Sanajy Leela Bhansali's film. However the actress smartly answered saying that right now she really cannot talk about any film, but for sure she would work with SRK one day.
Kangana Ranaut walked in Manav Gangwani at India Couture Week 2016

Kangana Ranaut snapped as she walks the ramp for Manav Gangwani at India Couture Week 2016.

Image credit: Viral Bhayani

Kangana Ranaut walks the ramp for Manav Gangwani at India Couture Week 2016

Kangana Ranaut looks stunning in this amazing creation of Manav Gangwani.

Image credit: Viral Bhayani

Kangana Ranaut as Manav Gangwani's showstopper at India Couture Week 2016

Kangana Ranaut shows off Manav Gangwani's new bridal collection.

Image credit: Viral Bhayani

Kangana Ranaut snapped with Manav Gangwani at India Couture Week 2016

Kangana Ranaut clicked with designer Manav Gangwani at India Couture Week 2016.

Image credit: Viral Bhayani

Zayed Khan during Manav Gangwani's show at India Couture Week 2016

Zayed Khan attends Manav Gangwani's show at India Couture Week 2016.

Image credit: Viral Bhayani

Kangana Ranaut in Manav Gangwani's creation at India Couture Week 2016

Kangana Ranaut looks mesmerizing in this creation by Manav Gangwani.

Image credit: Viral Bhayani