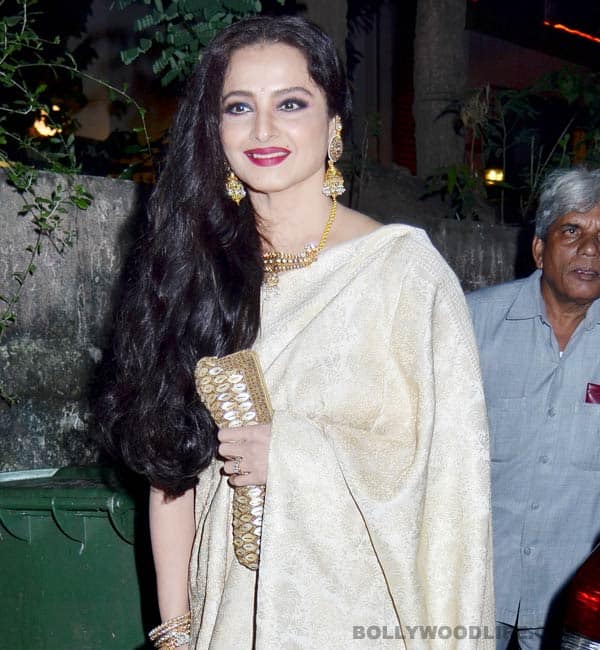 The evergreen diva of Bollywood will soon be back on the big screen with a film very similar to her blockbuster revenge drama
After Sridevi's super successful comeback film English Vinglish, it seems all of Bollywood's yesteryear divas are looking to make a return on the big screen. Although Madhuri's Gulab Gang may be the immediate next in this series, yesteryear diva Rekha has chosen the film that will be her comeback vehicle…and that, at the ripe young age of 58!
She has been offered a film by producer Indra Kumar that is eerily similar to her previous hit Khoon Bhari Maang. The movie, an onscreen adaptation of the Gujarati play Baa Ae Mari Boundary, will have Rekha playing a neglected old lady who turns into a sought after supermodel overnight after her US-returned grandson convinces her to pose for photographs and do a few commercials.
We hear that it didn't take too much convincing on producer Indra Kumar's part to have Rekha agree to do the film. Is it because she is choosing to play it safe, so used to the formula that even her previous comeback in the 80s Khoon Bhari Maang was based on a similar subject? Well, we hope she has thought it through, as this new one will also star Vivek Oberoi – she needs to be more careful of that more than anything, considering Mr O's been a sort of a dud king of late, with theatre owners almost pulling out his last film Kismat Love Paisa Dilli from screens because of poor performance!
Whatever she does do, if Rekha can produce a performance on par with some of her best, from Khubsoorat to Aastha, this one could be a winner!