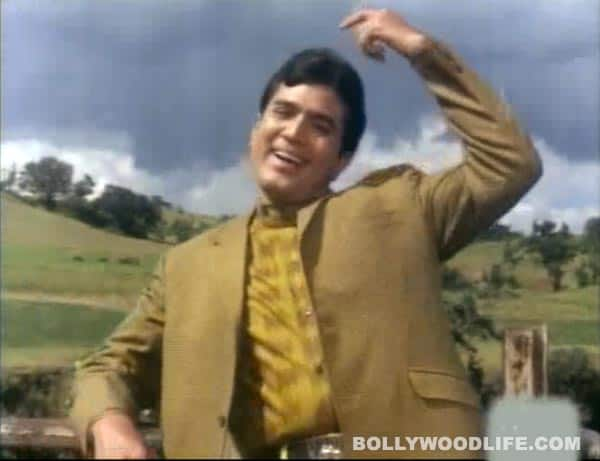 The superstar breathed his last at his home today
Yesteryear superstar Rajesh Khanna passed away this afternoon at his residence Aashirwad in Bandra, Mumbai at the age of 69. Rajesh had been ailing for sometime and undergoing dialysis processes. Just last month his fans had got hope when he waved to them from the balcony of his bungalow, accompanied by son-in-law Akshay Kumar. He had seemed thin and weak, but healthy. Unfortunately, he had a relapse and Rajesh breathed his last today.
Rajesh's demise brings to an end a golden era of Bollywood. He was the original superstar, an actor whose fame spread even to the otherwise insulated south Indian states. Women – young and old alike – were known to write love letters to him in blood and marry his photographs. His trademark smile and head tilt sent women swooning over him. Rajesh made his debut in 1966 with Akhri Khat. Since then he starred in 163 films of which he was the solo hero in 106. Some of his most memorable movies include Aradhana, Baharon Ke Sapne, Kati Patang, Roti, Raaz, Aap Ki Kasam and Daag. His charisma remained unmatched and Rajesh, or Kaka as he was fondly known, ruled Bollywood for several years. His performance was appreciated in two hero films too, especially in Anand, Namak Haram and Safar. Later, he went on to play character roles in movies such as Swarg and Disco Dancer, but that didn't diminish his appeal. In 1991, he entered politics and was the Member of Parliament from the New Delhi constituency till 1996. He continued to be a Congress party member for several years. In 2007-08, he starred in a couple of television serials but didn't return once they ended. His last film was the highly forgettable Dil Dilon Ke Khel Mein.
During his career, Rajesh created a kind of hysteria that was unseen till then. He has been referred to as "the original superstar" and as "the phenomenon" for the huge fan following he generated. He will be missed. May his soul rest in peace.