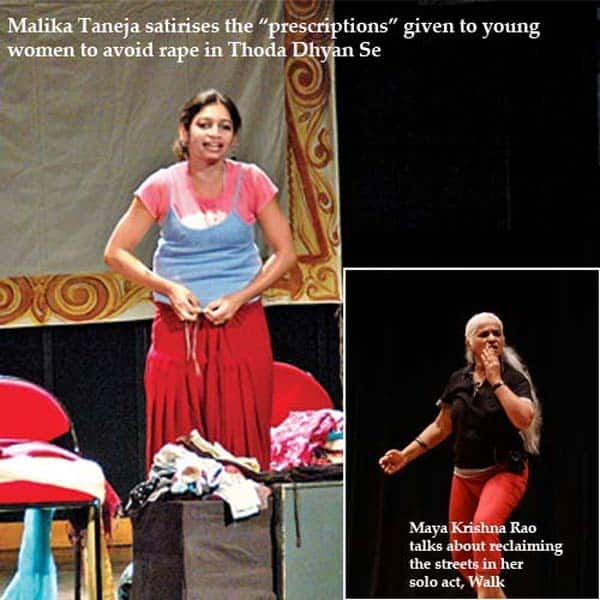 Even as the collective grief and rage over December 16 fades, artistes are keeping the conversation on violence against women alive through creative expressions of outrage
In her strong guttural voice, noted theatre artiste Maya Krishna Rao took to the streets of Delhi late last year in protest of the grisly gang rape that occurred on December 16: "Not 5 not 6 not 7 not 8 not 11…at 12 in the midnight, I want to walk the streets. At 2, at 3, at 4, I want to walk, sit on a bus, lie in the park…" In a series of stirring performances across Delhi, Rao talked about women reclaiming the streets through her solo act named, quite simply, Walk. Since then Rao has had about 30 shows across the country and abroad. It was the simplest form of theatre she had performed till date in response to the fatal gang rape of Jyoti Singh Pandey in a moving bus. "The news of her death came as a devastating blow and the play was a spontaneous reaction to it," says the Sangeet Natak Akademi Award winner.
Back in Mumbai, TV and theatre actor Rasika Agashe felt it wasn't enough to just attend candlelight marches. She decided to rope in members of her theatre group Being Association, "to do something about the whole issue". A six-month long workshop and a lot of research resulted in the play Museum of Species in Danger that dissects patriarchy and age-old attitudes towards women. The play premiered in Delhi this week as part of Jurrat — a week-long campaign to mark the anniversary of December 16 by Mumbai's cultural collective Swaang. The group had gained wide recognition early this year with Maa Nee Meri, arguably one of the most evocative protest songs on rape and the culture of silence.
Even as the collective grief and rage in the aftermath of December 16 is now replaced by a subdued sigh, artistes are keeping the indignation alive with songs, plays and poetry. Since public memory is short and outrage even shorter, these cultural expressions are a reminder to continue the conversation on violence against women, especially since such incidences show no signs of reducing. For Delhi-based theatre artiste Malika Taneja, the Shakti Mills gang rape was the tipping point. "Here was a woman who did everything according to prescription — it wasn't dark, she was accompanied by a male and she probably wasn't wearing 'provocative' clothes. Yet it happened."
Taneja's 10-minute sketch, Thoda Dhyan Se, is a satire on every piece of advice you may have heard on "preventing" rape. It begins with her entering the stage in her underclothes, turning sideways to check out her bum. We see a woman on stage who likes her body and is confident about it. By the end of the sketch, she piles on enough clothes on herself to ensure no "skin-show", literally, and asks the audience if she's looking fine; fine enough to not invite rape.
Taneja says the past one year has changed her in many ways and the change is, perhaps, reflected in her craft. "We have finally realised the value and power of public action and I don't think we can stay quiet on this issue anymore," she says. It's hard to pinpoint why December 16 touched so many people but South African playwright Yaël Farber, who directed the play Nirbhaya, says what matters is that it broke the barrier of indifference. The play is yet to come to India but the response it evoked in the audience abroad was unlike anything Farber had seen before. "It's hard to describe how emotionally explosive the auditorium would become each day in Edinburgh during the performance. People reached out to the cast after the show to share their personal experiences of sexual violence or simply to commune and grieve."
Farber adds that December 16th is a powerful reminder of another beautiful life snuffed out ­— not by six men but an entire belief system that has different permutations but shares the same strand of misogyny around the world. "May December 16th remind us of the urgent need to rise against this… every single day," she says.
Story & Image Source: DNA