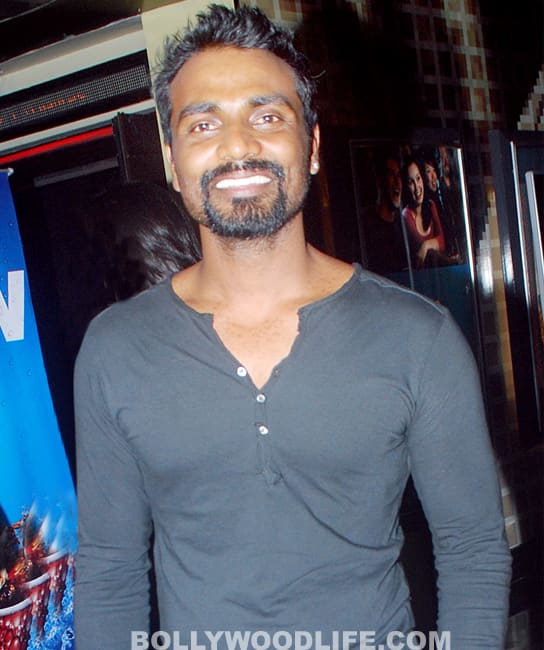 F.A.L.T.U. director reveals why he switched from choreographing songs to wielding the megaphone
When I meet Remo D'Souza, he's already spent more than two hours talking to several TV channels in the sweltering afternoon heat, as the air conditioning has broken down. Despite that, he's not showing any signs of irritation or fatigue. Almost makes you want to say 'This is it' to other pesky celebs. As he takes a breather in a cooler room, we chat.
Why the shift from choreography to direction?
It's natural. After you have directed thousands of songs, the next step is to become the director of a film.
So, you always wanted to be a director?
When I started as a dancer in the film industry, I used to see directors on the sets. They used to be like, the boss on the sets. I always wanted to be a director, because I always wanted to rule the set. That's how I got this thing in me that I must become a director.
But this is your second film, isn't it?
Yes, I have produced and directed a Bengali film, Lal Pahare'r Katha. That was for me, as I wanted to test myself and didn't want to risk somebody else's money. The film turned out to be very good, even winning a National Film Award. That gave me the confidence to make my second film.
So, isn't it tough to do both direction and choreography at the same time?
No, it's not tough. In fact, if you are a choreographer you should do your songs. You are known for your choreography first, then the direction. So, you can't say 'I am directing a film, let someone else choreograph the songs'. I like Farah's (Khan) work because she choreographs the songs in her films. She doesn't give it to someone else. In my film, all the songs take the story forward. So, instead of getting some other choreographer, I thought I should do it.
Was it not a double burden?
No, it was not. I think it's fantastic. People want to see my choreography in the film I have directed. They love me, so if they are coming to see the film, they should have something surprising dance-wise in the film. There is that surprise element.
Choreographers-turned-directors haven't really made it big in the industry, except Farah Khan. Did that ever worry you, or make you doubt yourself?
It worried me initially, and worried everyone. 'Oh, here's another choreographer who wants to turn director', they said. But I noticed that all the choreographers who turned directors, made something else other than a musical. You are a choreographer and when you make a film, the music and the dance have to be the best in the film. That's what people will come to see – he's done some good choreography in other movies, let's see what he has done in his own film. I think they should have concentrated on the music. Farah is the only choreographer who has turned into a successful director. She has actually done what I have wanted to do in my films. Her music is very good, her songs look outstanding. That's what I want to do – if a choreographer is directing a film, it has to be a musical, it has to be the best. The music of F.A.L.T.U. is already catching up –and the dance steps, too. Now they will come to watch the film and hopefully, like it, too.
What do you think of this idea of releasing music digitally?
I think it's a very good idea, because nowadays youngsters don't buy CDs, they just download the music. However, people in small towns don't go online, they need CDs also. I thought we should have done both. But ultimately, it's the producers' call.
What would you like to say to your detractors who claim F.A.L.T.U. is like 3 Idiots?
If you are comparing the film with 3 Idiots, it is a great thing. It's very big for me. However, F.A.L.T.U. has nothing to do with 3 Idiots. Both are set against an educational background, that's it. There is no connection with the film or with any other movie. It's like there are thousands of love stories, where love is the common factor, but not every film is the same. My film talks about average kids, 3 Idiots talks about intelligent kids.
So, why this subject?
I thought this was a subject that had to come out. As a kid, I was a weak student and I went through a lot of trouble. I did not get admission in any good colleges, because I used to score under 60 per cent. I thought this subject is the right one for my first Hindi film. I wanted to make an intelligent film. Not a mindless comedy, but comedy with some sense..
Actors Jackky Bhagnani, Chandan Roy Sanyal, Puja Gupta… they all say that they had a blast shooting for the film. Was making shooting fun a conscious decision because you were making a comedy, or is it just your style of working?
That's my style of working. Even when I choreograph for a film, I keep the atmosphere very light on the sets, with lots of fun. I have seen that if you are strict on the sets or in school, others don't open up. They get scared that if they open up, they will get shouted at. So on the sets, I keep it open for anyone to come and give suggestions. Even a lightman can come up and say, 'It would be better if we took the shot this way'. I will listen to him. I will listen to each and everyone. If I like the suggestion, I will incorporate it. If you are strict on the sets, no one will talk to you. Why do that? Keep the environment very fun-loving, and everything will come out positive. I work like that and will do so throughout my life.
Even when you are making a serious film?
Yes. My Bengali film was a serious one. Then too, I had worked like this. Everyone knows that when we are shooting a serious scene, they have to be serious, otherwise it's fine.
F.A.L.T.U. is also being billed as the relaunch for Jackky Bhagnani. Did you ever feel the pressure?
There was pressure on me, and Vashu Bhagnani (the producer dad of Jackky). If your directorial debut is with an actor whose first film didn't do well, and your film is his second film, it's a big pressure. But I never thought about all that. I was more like, 'Let people talk, I will do what I am doing with all honesty. Then the film will work'.
What's the F.A.L.T.U., est thing you've ever done?
I told my mom I want to come to Mumbai and follow my dreams. Thankfully, she agreed and here I am.
Of all the things you've done – direction, judging and choreography – which do you like doing the best?
I like direction the best. As I said, I get to be the boss.