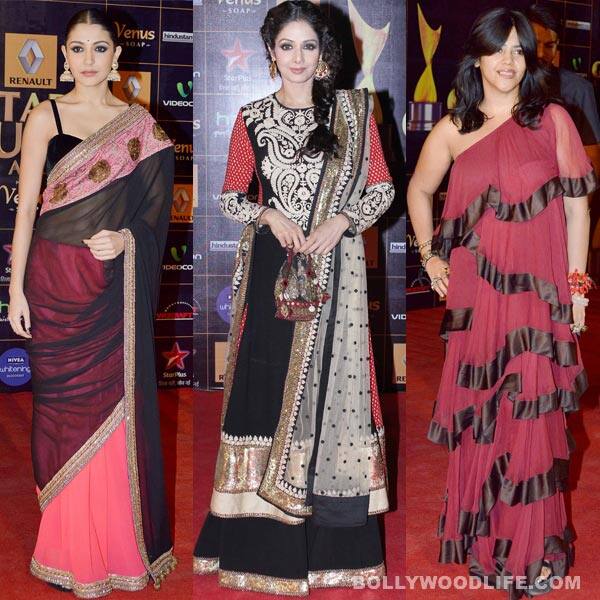 skip advertisement
anushka-sridevi-aur-ekta-story
The Star Guild Awards was a huge glam-sham affair. From Salman Khan making a dhamakedaar entry to Priyanka Chopra looking ten yours younger than she is, the red carpet soiree was an absolute style fest
Sridevi looked like a super duper diva in a Sabyasachi ensemble. We love what she did to her hair – the messy braid is giving all the space to her dangling earrings to spread their glimmer. Anushka Sharma is the highlight of the do, and that too without doing much – a contrast black and pink Manish Malhora saree, a neatly tied chignon and those fabulous temple earrings is all Ms Sharma opted for to spread some cheer. Talking about spreading cheer, Jacqueline should actually be the brand ambassador for melting hearts. The 'dil' shape pattern on her Lanvin floor length gown is making her look like a goddess of love. And the train is adding even more drama to her appearance. All she needed is a spotlight, and an entourage of cute li'l cherubs hovering around her.
After back to back visual delights, Ekta Kapoor stunned in a disastrous ruffled gown. We can already hear those muffled laughs and those sneaky hush-hush whispers brewing behind her back. Who said money can buy good fashion sense…sigh!
Vidya Balan was seen defying conventional colour combinations. Swanning in a purple saree and a jhakmak black blouse, VB may not have got it right, but for starters we are glad that she is taking some style risks. The Chopra chick dazzled, as usual. She looks young, vibrant, all ready to win the world – well, it's not just the dress, but also her body language that's saying that.