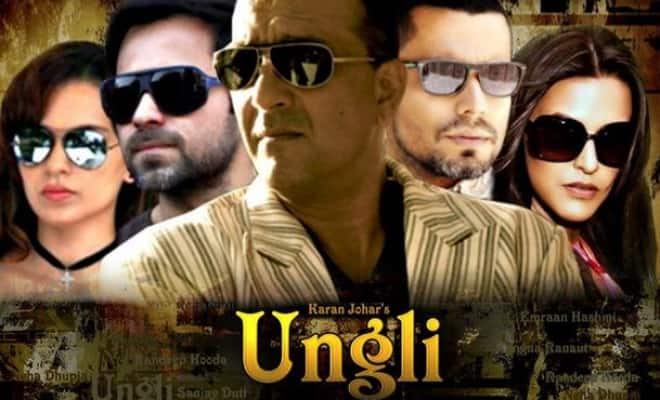 The much delayed product of Dharma Productions, Ungli is set for Nov 21 release
The release date for Dharma Productions' long delayed movie Ungli has been finalised.
It will come out Nov 21, said a statement. The film was earlier expected to release sometime in 2013, but due to poor quality and rework the film is now expected to release on 21 November 2014.
Produced by Karan Johar and directed by Rensil D'Silva, the movie stars Emraan Hashmi, Kangana Ranaut, Sanjay Dutt, Randeep Hooda, Neha Dhupia and Neil Bhoopalam.
Karan Johar and Rensil D'Silva are said to be having a tough time capturing Ungli in celluloid as two their lead actor's Sanjay Dutt and Emraan Hashmi were unavailable for shoot for quite some time. While Sanjay Dutt is serving sentence for carrying armed weapon without licence and is having a hard time in getting bail, Emraan Hashmi was away from the camera to take care of his son ailing from cancer.
Now with Sanju Baba out of the bars and Emraan Hashmi back after son's successful treatment, Karan Johar and Rensil D'Silva are keeping their fingers crossed and hoping to wrap up Ungli soon.