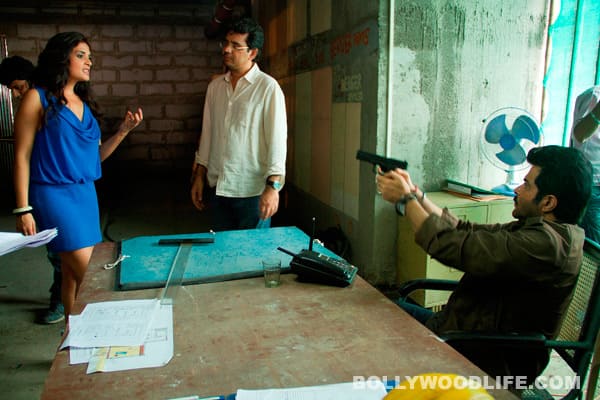 Two hours or even two days is not enough to converse with this talented director who is writing the script for the Indian version of 24…
Renzil D'Silva is writing and partly directing 24, the Indian version of the international series that starred Kiefer Sutherland. He measures every word he says and is obviously not used to doing interviews one after the other. We put him at ease and ask him to make it a conversation instead. Renzil relaxes and settles into his chair and then starts talking about working without a breather, Anil Kapoor – the 'nice man', the grammar of 24, Anita Raaj, and how even though the series has a big budget, it is not enough to make a movie…
Was it challenging to write and direct 24?
To adapt the story of the international series and to make it Indian was not an easy job. There were political issues – in the original they have a black president. We had to create a whole different political reality. Plus, the villains of 24 were international in the first season. It was a sovereign attack, but here we had to find an Indian villain based on our own political realities. Beyond that it's just the story; it's more high octane here 'coz our audiences expect that. Anil Kapoor and Kiefer Sutherland have different tonalities – for Anil it had to be a little more out there or it would have been too subtle. In the original, Teri Bauer gets amnesia twice, is kidnapped twice, but we eliminated all that. I am a great believer in originality. Whatever works is fine, but what can be better and be made more original should be done.
Did the international makers mind the changes you made to the script or have any conditions?
They didn't mind any changes, nor did they have any conditions. That's the great thing – they trusted us completely. Actually, we made sure we didn't change things for the sake of our egos; we altered things 'coz there was a reason to change. Plus, they made the first season ten years back, so if anyone Googles it they can see the entire season and know how it ends, so we tweaked the end of our series. We've kept 50 percent of the original and changed about 50 percent percent of it. So anyone who has seen Season 1 and is expecting a similar end will be surprised.
You know for a fact that people will compare both series – are you ready for that?
Yes, I know. In fact, I hope they like our version. I believe there should be comparisons…why not! As a creative person you should pit yourself against the best in the world and see if you can be better.
Besides you, who else gave their input to write the series?
Priya Bhavani did the screenplay with me. Milap Zaveri, Niranjan Iyengar and I wrote the dialogues. It was like writing ten films together, so we had a team of writers. They have been writing since last March.
Do you think that as the seasons progress, it's going to get more difficult to change the script to suit Indian sensibilities?
Sometimes maybe, 'coz their reality is very different from ours. Like if you want to track someone, they will use satellite communication to track them; we may not be able to do that. We don't have that kind of infrastructure, so we have to find creative ways to do it within the 24 hours. The good thing is, the international makers actually say that if we want any help, they are there. So you have an international team backing you.
Was any crew member of the international series part of the Indian 24?
Patrick Harbinson, one of the initial writers of the show came and met us at the preliminary stage. He told us how they went about it. Michael Click, the producer of 24 came down and met us for a week to share his inputs. If we wanted we could have taken help, but we tried to do this indigenously.
I think the great thing is the journey to get an international project of this magnitude and recreate it. I have never in my life done something like this. A few days back I was directing an episode and it was the last shot of the day. Someone put the slate up and went to give the clap; he said, "Scene 700, take 1, shot 1" and I nearly died. Where do you hear that on a set! I have directed movies, but to have a scene 700 is outstanding!
Who approached you to write for 24?
Anil Kapoor and Abhinay Deo – both approached me. Abhinay is an old friend; we did advertising together.
Did you write the script keeping the actors in mind?
I never write keeping the actor in mind. That's cheating. I write for the character in the story, then cast the actor – except for Anil Kapoor.
Will Shabana Azmi and Rahul Khanna continue to be part of Season 2, if there is one?
Rahul Khanna is not a continuing character, but Shabana is. The good thing about 24 is that you have characters appearing in several seasons.
What kind of hiccups did you face in doing the show?
We crashed into this; just went in, all guns blazing. Sometimes I would write a scene, then check an episode to notice that we are giving the same information in two different ways. You have to say it here or there. Apart from that, I don't think we had time for hiccups. If there was a hiccup, we'd shoot it, edit it, reshoot it and move ahead. We'd write and shoot simultaneously; sometimes we made changes on the set itself.
How do you take a breather then?
There is no breather.
So how do you keep creative juices flowing?
We just hire more people. If I drop off to sleep, someone else takes over. I had to start directing so that Abhinay could edit.
Which episodes of 24 have you directed?
I have directed episodes 12, 15, 17, 19 20 and 21.
Is it different directing TV from films?
It's the same thing, 'coz we are shooting this like a movie.
After seeing the trailer, we see a difference between regular daily soaps and 24. Can you tell us about that?
There's a grammar to 24. If you and I are talking, I have to take it from four angles. TV doesn't do that. If two people are talking, it will zoom out and keep the two in a single frame and move on, 'coz there's no a) money and b) time. But we can't make 24 like that. People don't stop and talk – like if I am talking to you, I cannot stop take a minute to look at you and then talk. Walking and talking creates a sense of pace and to achieve that you have to shoot it like a movie. Only movies are shot from four angles; then you have chopper shots and chases. It's not that in TV people do not want to do such intense scenes. I am sure there are lots of creative people in TV who want to do it, but they don't have the budget to do so. We are just taking the leap of faith since we have the budget – not that we have the American budget!
So what was the budget for 24?
I am going to smile sweetly at you.
Okay, give me an approximate amount…
I am going to give you another sweet smile.
Fine, tell me this – did you overshoot the actual budget?
See, it's not what you think. It wasn't a movie budget. You can take a budget from a 20 percent to 50 percent, but you can't go more than that. We are well within the budget.
What locations did you choose for this series?
We shot in every nook and corner of Mumbai. We've shot in construction sites, salt pans, Gorai, high rise buildings, Worli village, Masjid Bunder and more. I think you will see the underbelly of Mumbai on this show.
How hardcore is the action in 24?
We have blown up cars, done shooting, and drowning sequences. I don't know if that's hardcore or not. Like a few days back, we had an action sequence to be shot in Madh island. It was a drowning sequence, which is not part of the original. I went on the set and said I want to make this bugger. So we got people diving into the water with cameras to take it from another angle. There were a lot of impromptu action sequences that are not part of the original.
How long does it take to shoot one episode?
Six days. Which is great and tough; abroad they do it in eight days.
What was your most memorable moment during the shoot?
For me it was a scene with Anil Kapoor and Richa Chadda. It's a chase scene. When we started out it was an empty road, suddenly there was a crowd of 4,000 people who had come to see Anil Kapoor. We still shot the chase beautifully.
Why does Anil Kapoor say that his character has shades of grey?
Well, he is not an ideal husband, he's not an ideal father and he is a man with demons who is trying to deal with them. He is part killer and an agent. That's something never seen before. His relationship with his wife is fractured and he has a relationship with another woman. Now you have this in your regular daily soaps as well, but the emotion seen is very real here.
Tell us one thing about Anil Kapoor that most people haven't said…
He is a nice guy. He is one of the guys, he's approachable. You can tell him a problem and you know he will resolve it for you for the betterment of the show, and he will not care how much it costs him. I have worked with producers who look at the bottom line. Karan Johar is like Anil Kapoor – he believes in the product more than the money. There are very few such people who believe in the product so passionately, that they don't mind if it costs them a crore more.
Why did you choose Mandira Bedi and Tisca Chopra for their respective roles?
Mandira is a very good actor; there's a positive energy about her face and she is in great physical shape. When you cast her as an agent, you believe it. And I think Tisca is a fabulous actor.
Neil Bhoopalam and Anita Raaj as politicians – why?
I have worked with Neil in Ungli and I think he is a fabulous actor. In fact, I suggested his name for the role. As for Anita Raaj, I believe she is a neglected actor. The role is one of a very stern, worldly wise and politically savvy woman. She was good for it; she can get that softness and hardness the character requires, plus she was great in the auditions.
Watch trailer
Anil Kapoor's 24 promos: It's an action packed, thriller induced and dramatic rollercoaster ride