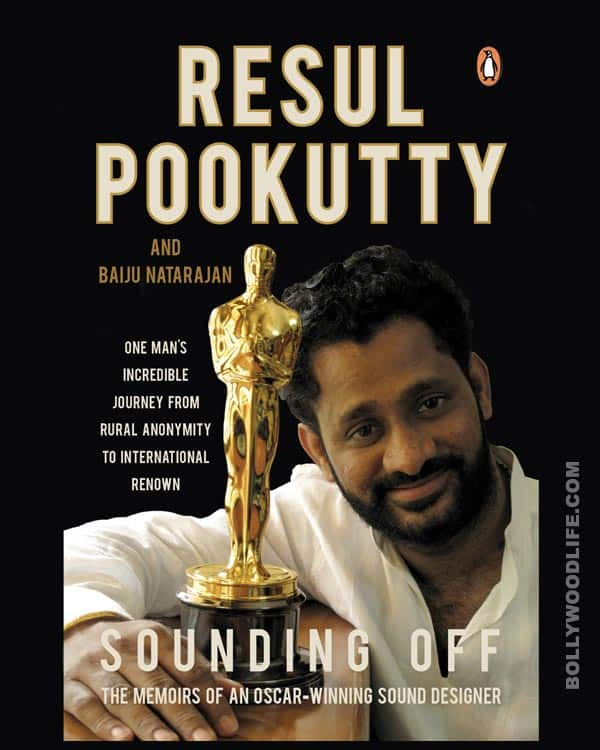 Read the review of Oscar Award-winning sound designer Resul Pookutty's autobiograpy
He may be 'India's best known sound designer and audiographer', as the book jacket says, but Resul Pookutty sounds just like a lad from a small village set deep into the backwaters of Kerala. It could be straight out of Swami and Friends, or Malgudi Days, that RK Narayan classic made for television. The way he tells it (in translation by KK Muralidharan), life was a bucolic existence, full of masti and replete with good things to eat and scoldings — and more — from Umma, Pookutty's mother.
Though he says how tough life was as a freelance sound engineer in Mumbai, it is almost an in-passing observation, with the story skating neatly over the nasty bits and dwelling, instead, on feelings. Which is all good, since he is articulate and honest (or so one thinks as one reads) and heartfelt.
Even as he tells the story of his career, which is why he is known at all beyond his own family-friends clique, Pookutty tells a far more interesting and important story.
He talks about his parents, especially his relationship with his mother, Umma, Alikkunju Nabizabeebi, and his father, Pazhaya Theruvil Thambikkunju Pookutty, or Bappa, whose general attitude was that "nothing really belonged to anyone", with great fondness but some distance. And even as he worked passionately involvedly on "creating sublime sounds for a film", he found that a career in Malayalam movies was close to impossible. This was in 1995, when he was just finishing up his studies at the Film and Television Institute in Pune. "Those were threshold times for me," Pookutty says, and he "needed to figure out his next course of action". He decided that he would finish his law course and move back home, setting up a practice there, where he could "also help out Umma and Bappa". He would also do the IAS exam, since he was still young enough.
Academy Award
And life, as usual, had something different in store for the man who would, some years later, triumphantly carry home the Academy Award for his work on Danny Boyle's Slumdog Millionaire. But by then it was a different home, one where neither Umma nor Bappa could share in his excitement; they had died about six years earlier. The grief that Pookutty feels is touching, palpable, identifiable, eliciting a sniffle or two even from a cynical reader. It is something we all go through, anyone who has lost a loved one to death.
Pookutty too went through a time when "I couldn't personally or emotionally get close to anyone … I would end up losing them." And he found that "Acknowledging the permanent departure of Umma and Bappa from my life was impossible … This sudden realisation of one's immense loneliness is not something words can communicate." This feeling of pain and loss was exacerbated by a knee injury that gradually developed into everything from suspected tuberculosis to rheumatoid arthritis, eventually cured by a judicious ayurvedic course of treatment and a change of lifestyle. In that story, you learn about the rigours of being a sound designer, engineer and controller, a job that is not limited to the sanitised — albeit un-airconditioned — confines of a studio, but one that is all about stress, physical exertion and very little rest on a film set.
But a more cheerful note is sung soon after this sad song with Pookutty's love story. There are hilarious vignettes about the various girls he fell in love with in school and college – each for a special reason, be it food, figure or flirtation. And it went on until he was finally convinced that marriage was a must.
The process of looking for the right person to marry, meeting them – with various members of both families present, of course — and then deciding was not a novelty, everyone did it. So the sound master did too.
There were many misses, in more ways than the literal, with nobody ringing Resul's bell in just the right tone. Finally, he meets Shadia and, over many months of wanting, not wanting, sure, not sure, with many secret phone calls, emails, texts and a meeting or two thrown in, the wedding was decided on. And she, the new Mrs Pookutty, had to learn a lot about life with her husband in the big city that is Mumbai. Of course, the book talks extensively about Pookutty's work — from interactions with Amitabh Bachchan using sync sound in Boom to working on the multi-award-winning Slumdog Millionaire. But all that is expected of a man who has changed the way people talk, orchestras play, cars honk and feet tread in the movies today. After all, that is his job. Resul Pookutty is far more than all sound and fury — he signifies a great deal more, all of which is so delightfully depicted in his autobiography.
Courtesy: The Hindu