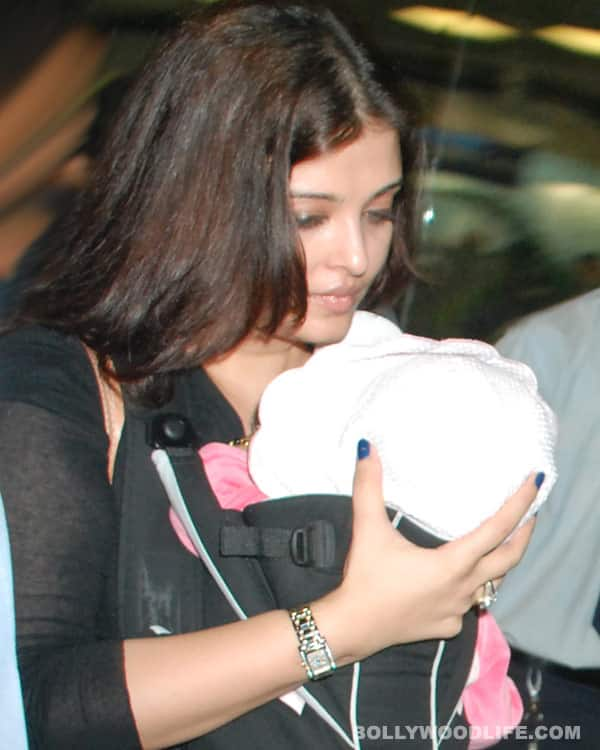 She's got the best of her mom and dad's physical features, we hear. But we ain't believing anything until we see her ourselves!
The Bachchans have tried hard to ensure that baby Aaradhya's face remains hidden from fans, but alas, one kind deed almost ruined all their efforts. We now know some interesting bits about Aaradhya's looks. Or so we think.
It all happened when Aishwarya Rai Bachchan took her baby along when she went shopping in London a few days ago. A fan who spotted her requested her for an autograph. Aishwarya was kind enough to sign one for the fan, but didn't realise that she was giving her admirer an inadvertent peek at Aaradhya's face. The fan immediately took to Twitter to tell the whole world about the baby's looks. Aaradhya, claims the tweet, is as fair as her mom, but doesn't have Ash's eyes. The baby has her father's brown eyes. Seems like a beautiful combo, doesn't it? No wonder the Bachchans are keeping her away from the prying eyes of the media. Poor Ash. We are sure she never dreamed that one kind act she did for a fan would have such repercussions. We just hope it doesn't stop her from being kind to her other, more understanding fans. Like us, for instance, who would really like to wait and find out more about the infant from her own family!