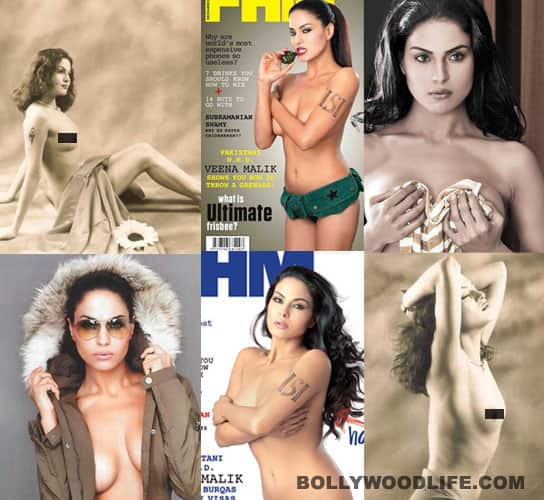 She's hot, sexy and ready to bare it all! Veena Malik, the 'maa' of all controversies, wants to be big not only in Pakistan, but also in India. And she's ready to do almost anything to achieve it. In the past two weeks we saw the lengths to which the actor can go to create a hullabaloo. But there's more to the story than meets the…err…eye
Here's some new dope on the controversial Veena Malik scandal – or should it now be called 'the big publicity stunt'?
In chronological order, Veena does a topless photoshoot, the magazine publishes the cover, after which the actor sues the magazine for defamation. In response, the magazine sues her for Rs 25 crore. Final outcome: Veena Mallik becomes the hot topic of discussion in any conversation. The actor gets much needed publicity just before the launch of her reality show, Veena Ka Vivaah. Indeed, a well planned publicity gimmick, confirms Mumbai-based fashion designer and stylist Umair Zafar to a newspaper.
The designer, who has previously styled Nisha Kothari and Sayali Bhagat for photographer Vishal Saxena's bold photoshoots, claims that the entire scandal was carefully planned between Veena, Vishal and FHM magazine. Apparently the actor did the shoot topless and was wearing a bikini panty. Vishal then morphed the lower body and removed the skimpy garment using a little mouse-magic. Umair further claims that the defamation cases by both Veena and FHM were prepared in advance. That's a new one indeed! While we are sure that Veena managed to become a household name with this controversy, we wonder if this route was really necessary. The question is, will Veena be able to attract prospective grooms on the reality show with this scandal attached to her? Or will the channel try buying a few grooms for the controversial queen? You never know – after all, it's all about entertainment, entertainment, entertainment and Veena, she certainly is entertaining!