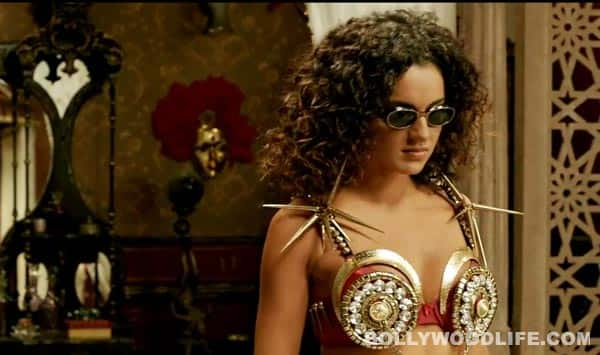 She is more than just your regular rebellious thug. Watch Kangy showcasing her never seen before side in these promos!
In what can be called the best exploitation of quirks and idiosyncrasies of the protagonist of his recent release, director Sai Kabeer gives Kangana Ranaut aka Revolver Rani some of the choicest dialogues to mouth in the film. And the beauty with a curly mop of hair uses sarcasm, her finely-adopted rustic accent and the venomous tongue to a caustic effect.
While she is tough from outside, beneath the layer of this machismo, Kangy's character is forever seeking for true love and affection. But that doesn't stop the babe from showcasing her quirks absolutely unabashedly. Don't believe us? Watch these dialogue promos and tell us how superb lines, raw as raw can possibly get, add the edge to the already finely mounted drama. We are sure Revolver Rani will steal your collective hearts with her fiery words!
[flv]"http://st1.bollywoodlife.com/wp-content/uploads/2014/04/dialogue-promo-merged.flv"[/flv]