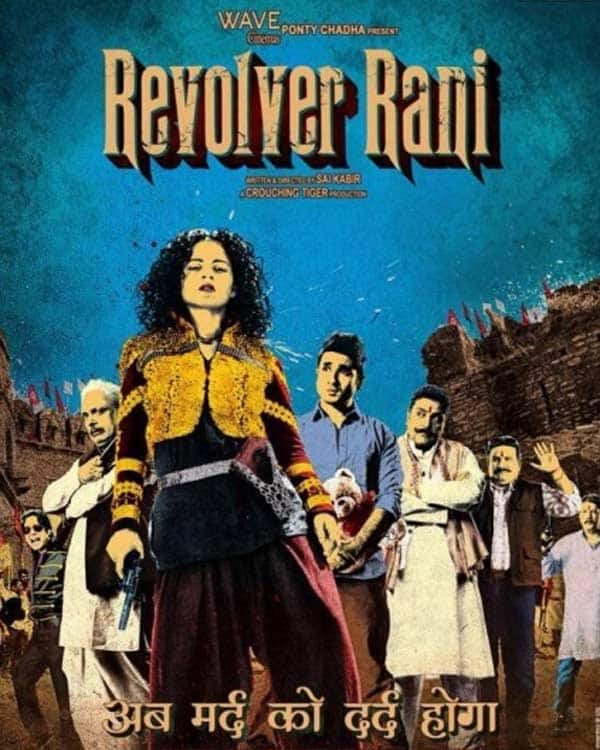 The Queen actor's Revolver Rani has hit the theatres and we must say, Kangs has done it again. A charged up politician-gangster with a warm heart, Kangana's performance is mind-boggling
Kangana Ranaut's much awaited quirky black comedy Revolver Rani directed by Sai Kabir released today. Set against the backdrop of Chambal valley, a region known for dacoits, the film is full of guns, goons and bloodshed which isn't gruesome, funnily. To tell the truth, the film's plot isn't extraordinarily unique, but Kangana saves this film. Her screen presence is so strong that we can proudly say, this curly-haired babe needs no backing from any Khan to make a film a hit!
Kangana Ranaut plays Alka Singh, a gun-loving politician in Revolver Rani, while Vir Das plays Rohan Kapoor aka Chumchum, Kangy's toy boy. The film begins with Alka Singh's rival winning the elections and becoming the minister. But we wouldn't care less, coz till Kangana makes her entry, it's thanda. But with the entry of the slightly deranged political leader, Alka the movie becomes electrifying. Alka Singh is born in a family who wanted a male heir and they were disappointed with this girl child. However, she loses her parents in her childhood and she's then brought up by her Balli mama (Piyush Mishra), who is actually a modern version of the conniving Shakuni mama. So it's Alka up against Udaybhan Tomar (Zakir Hussain) and while she is quite an idiosyncratic being, her strings are being pulled by her mama all through the movie. Alka gets whatever she wants and two things that are really close to her are guns and her lover cum toy boy Rohan Kapoor, who is an aspiring actor only using her for money to produce his film.
Anyways, the Tomars are in power from the start of the film but as always, they play dirty politics (who doesn't, though?). Through the first half, we get to see how the Tomars and Alka Singh are trying to pull the other one down. Alka is triumphant, courtesy her mama, who organises a sting operation. The quirky lady is all set to rise to power yet again, but then hits the climax of the film, and then begins a new game.
Though Alka is a strong political leader using guns at the drop of a hat, she's a young lady who wants to be loved. But will she get love? When the love-deprived Alka has to choose between her career and lover, without doubt, she goes for the latter. But will love help her win all the other battles in life? Will her calculative mama let her abandon everything that he has created for her political career take a backseat coz of the choice she has made? Will Alka's toy boy stand strong beside her through her tough times? The answer to all this forms the second half of Revolver Rani, which takes us through a series of event. At one point, it seems dreary but the movie's pace speeds up as soon as Kangana as Alka is back on the screen again. In this black comedy that is layered with politics, love, betrayal and so much of backstabbing that you are left pondering, is love really worth it all?
Kangana Ranaut's performance in Revolver Rani is rip-roaring. She outshines everyone else in the film. Vir Das' role could be done by anyone else and we couldn't care lesser. In Queen, Kangana played a slightly weak character that becomes stronger given to circumstances that she's put through. However, in Revolver Rani, she plays a strong-headed wacky person who becomes emotionally weak due to circumstances. Both her roles are starkly different and she's impressive in both these films. Directed by Sai Kabir, the film spells success. However, one thing that we couldn't help but notice is Kangy's dusky makeup. It looks more tanned than dusky and in some scenes, the skin tone of her hands is lighter than that of her face. The music in the film is justly used and is perfect for the backdrop. There are no unnecessary skimpily clad girls doing item numbers. Kudos to Sai Kabir and Kangana for this brilliant movie! The film might not be a Queen, but Kangana Ranaut is surely the queen in Revolver Rani, who can carry entire film on her shoulders. It's an applause-worthy film, so book your seats for this weekend! Enjoy, BollywoodLifers!
Rating:
out of 5
Reviewed by Bhagyashr​i Pawar
* Poor
** Average
*** Good
**** Very good
***** Excellent