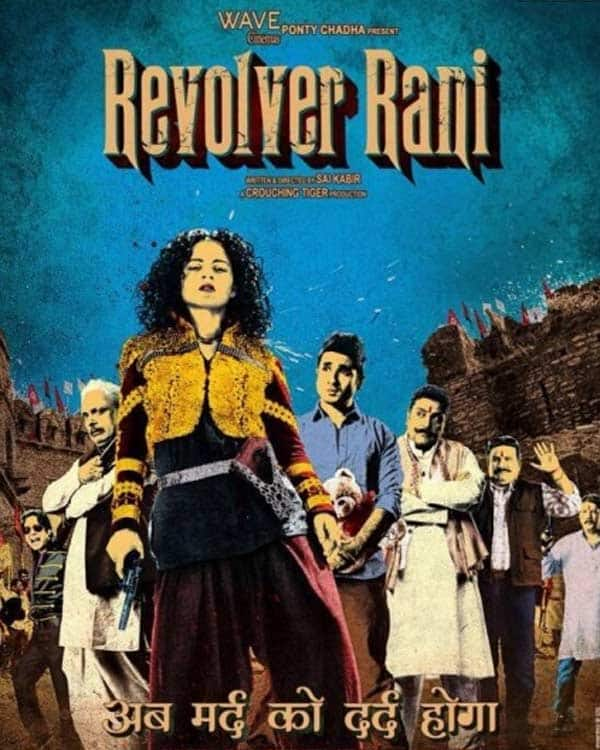 Music: Sanjeev Srivastava
Lyrics: Puneet Sharma and Shaheen Iqbal
Singers: Anweshaa Dutta Gupta, Avi Dutta, Garima Aneja, Sameera, Gorisa, Keka, Manjeera, Saleem Javed, Moin Sabri, Sanjeev Srivastava, Abhishek Mukherjee, Mayur Vyas, Rahul Gandhi, Piyush Mishra, Asha Bhosle, Rekha Bhardwaj and Usha Uthup
Queen has catapulted Kangana Ranaut to the heights of super stardom and now she is experimenting with a completely different genre in Revolver Rani. The film is supposed to be a comedy drama. Let us have a song by song review of the album, consisting of seven songs, and find out whether it impresses us or not.
Revolver rani: Sung by Usha Uthup, this song pumps up your adrenaline rush in the very beginning of the album. The song has the flavour of '60s and has strong usages of the saxophone. Puneet Sharma's lyrics are quirky and lends the perfect tinge to Usha Uthup's voice, which is possibly the best thing about the song. It is her deep and powerful voice that keeps you hooked onto the end.
Thaayein kare katta: Sung by Piyush Mishra, this song is full of thumping beats. Puneet Sharma's lyrics describe the character of Revolver Rani, played by Kangana Ranaut, to the T. The comparisons of Revolver Rani's character to basic things is best. Piyush Mishra's voice is different and brings the countryside feel to the song.
Kaafi nahi chaand: Sung by Asha Bhosle, this is a sweet retro romantic number. After a really long time, Asha Bhosle has sung such a romantic number which is dripping with melody. Shaheen Iqbal's lyrics compare a lover to the moon and it is so overwhelming that for the length of the song you will have a surreal feel.
Chal lade re bhaiya: Sung by Piyush Mishra with additional vocals by Abhishek Mukherjee and Mayur Vyas, this is a full on gangster song. The song has the occasional blackouts that are prevalent in present day songs of Yo Yo Honey Singh, but this is way better on content. The punjabi dhol beats adds to your enjoyment, while Puneet Sharma's lyrics will make you ponder as to what all Revolver Rani does in her day to day life.
Sulgi hui hai raakh: Sung by Sanjeev Srivastava himself with backing vocals by Gorisa, is a coming of age song, which starts slowly and picks up the tempo soon. The song describes the pain after having heartbroken in love. The song is contemporary and strong uses of the lead guitar maximises your level of contentment. Shaheen Iqbal's lyrics are normal and not very expressive as his previous writings. If you have failed in love, you might want to listen to this song, else you could give this a pass.
Banna banni: The song starts with beats similar to Koi ladki hai from Dil Toh Pagal Hai, this song has been sung by Rekha Bhardwaj. This song is a wedding sangeet ceremony song. Rekha Bhardwaj's staunch voice coupled with apt lyrics by Puneet Sharma make this song impressive. The local countryside flavour has been brought out very well via the lyrics.
I am brutal: Sung by composer Sanjeev Srivastava himself, this song is very modern-day disco song. Sanjeev Srivastava seems to be aping RD Burman's voice in this track. RD Burman usually had such a song in his heavy thick voice in each of his movie, but Sanjeev Srivastava's song shows that he doesn't originally have a voice like this and is trying to ape Panchamda, although failing miserably. You can gladly pass over this song.
Saawan ki aye hawa: Sung by Garima Aneja with rap vocals by Rahul Gandhi, this song begins like one of Falguni Pathak's songs. Puneet Sharma's lyrics bring the local countryside nuances to the song. The rap is good, although it doesn't go that well with the flavour of the song. The song is essentially a song by a girl who is longing her lover, who has gone to the city. It is full of romantic flavour and the rap just spoils the mood of the song. You may want to pass this song over.
Bol rahi hai payal: Sung by Avi Dutta and Anweshaa Dutta, this song brings back memories of Kumar Sanu singing to a Nadeem Shravan song in the 90s. Avi Dutta's voice is very similar to that of Sanu da.  With Shaheen Iqbal's apt lyrics, this song is good enough, if the intention is to create up the 90s atmosphere but otherwise it seems pretty off beat.
Chanda ki katori mein: Sung by Garima Aneja and Piyush Mishra, the song has two versions—male and female. This is a lullaby and reminds you of Soha saha from Highway, although this stands no chance in front of AR Rahman's composition. The male version is slightly better than among the two. Puneet Sharma's lyrics are good but this song just an okay-okay song.
Pehle lohe ki chingaari: Sung by Sameera, Gorisa, Keka, and Manjeera this song starts with  a bullet fire. The song gives a perfect feeling of an opera and Puneet Sharma's lyrics effectively describe the bloodshed happening in that region. The song is full of thumping anthemic beats and seems like after this is going to be the beginning of a war.
We mix you Michael Jackson: Sung by Saleem Javeed, this song is a desi version of a tribute of MJ. The vocals go tuneless and it shows that it is a deliberate choice, so as to bring the impression of drunken karaoke. The usage of octapad and dafli are good. The song confuses the listener a lot as the music moves over from disco to a live low-budget wedding band and finally ends with some 70s funky and quirky retro beats. The screeching sound, which is commonly heard throughout the song, is very distracting. Puneet Sharma's lyrics don't have much to do.
Zardozi lamhe: Sung by Moin Sabri begins with an ektara and gives you that love-struck feeling. The track is rather interesting because of the quirky title and Shaheen Iqbal's lyrics are intricately embroidered moments filled with love. The sudden, brief an intermittent inclusions of guitar adds to your feeling. The soulful singing along with the reverberating effects of dafli keeps you swinging between love in the late '90 and in the present day.
Revolver rani (Reprise): Sung by Usha Uthup, this song is definitely an attention grabber. It is an artsy remix version of the original track. The slow top beats pf the song are interluded with an underlying layer of humming rhythm. Usha Uthup's voice comes up more prominently in this bassy reprise. Although, the original song is way better than this reprise version and the effects seem to have been just thrown in for effect without adding to much to the intrinsic quality of the track.
Verdict: Sanjeev Srivastava has successfully brought in various flavours in one album. The producer's brief must have been to bring in the local countryside flavour along with some contemporary beats and he has done it very well. If you are a lover of countryside music, then this is the album for you. Our picks for the album are Usha Uthup's Revolver rani, Asha Bhosle's Kaafi nahi chaand and all of Piyush Mishra's songs. So go ahead BollywoodLifers, listen to the songs and let us know your thoughts on the music review.
Rating:
out of 5
Reviewed by Prateek Sur
* Poor
** Average
*** Good
**** Very good
***** Excellent