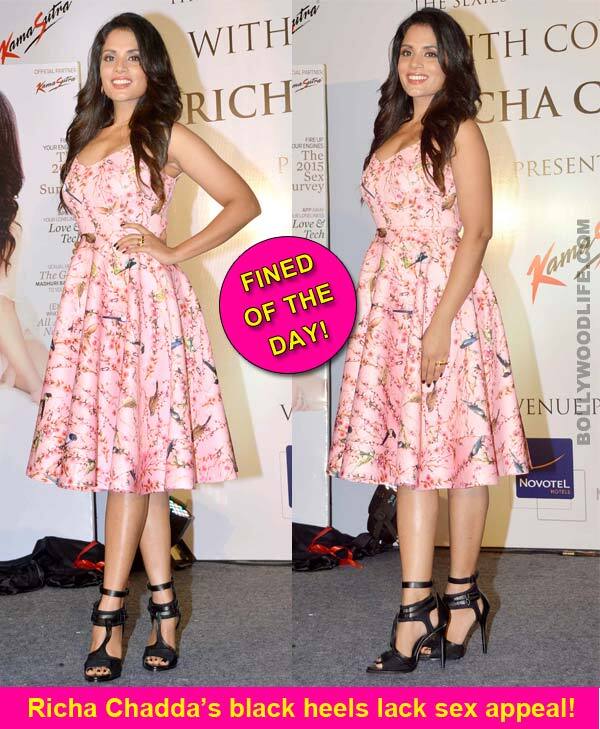 Cinderella's glass shoe was found by her prince charming but we are certain there will be no takers for Richa Chadda's dull black heels. Read on to know more…
A leading men's fashion magazine recently saw the new issue being launched by its cover girl Richa Chadda. The Tamanchey actor was seen wearing a floral printed pink flowy dress. The outfit could have worked for the actor, had it not been paired up with the unflattering black heels she sported.It almost seemed like the beauty's attempt to be the next princess on B-town block went utterly wrong with her disastrous choice of footwear. If one looks at the top frame, the Fukrey fame makes a pretty picture with an appealing hairdo and the light pink lips. But the sight immediately turns into a sore one, courtesy Ms Chadda's silly stilettos.
Had the Gangs of Wasseypur star chosen a different pair of heels to go with the dress, she wouldn't have been our "Fined of the day" today. We would have liked to see Richa donning her pink attire with a pair of beige, cream or blue heels that could compliment the print on her dress. We hope the Ram-Leela actor would take our fashion advice and prove to be a success at her Princess stint the next time around.
After all we believe the hottie has a deep connection with Cinderella. Don't believe us? Go watch her film Fukrey and see what is tattooed on the back of her neck! Does it ring any bells?