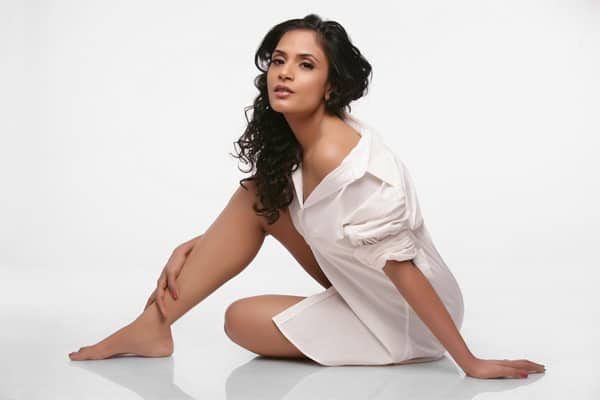 Her acting debut in Dibakar Banerjee's Oye Lucky! Lucky Oye! was appreciated and despite the fact that her role wasn't author-backed, Richa was noticed. Her latest foul-mouthed non-glam avatar as Nagma Khatun in Gangs Of Wasseypur has brought her into the limelight, but will she make it big in Bollywood?
Richa Chadda is an outsider in B-town, slowly and steadily making a place for herself. She hates being compared to other actors and is tired of saying 'No' to roles of older women in a troubled relationship being offered to her by the dozen. Richa is amused by the rumours floating around about her doing films with biggies like Sanjay Leela Bhansali and Karan Johar. When we met the pretty girl, it was hard to believe that she was Nagma Khatun from Gangs Of Wasseypur. She shared experiences from her journey from Delhi to B-town…
Tell us a little about your past…
As a child I was the only girl in my class who could sing, dance and play a musical instrument. A lot of credit for this goes to my parents and the culturally active society in Delhi that I was a part of. Deep down inside I knew that I would be happiest if I was in performing arts, as that gave me immense satisfaction. I was a part of many plays and I used to perform Kathak as well…
How did Oye Lucky! Lucky Oye! happen?
I had shifted to Mumbai and was a part of Barry John's plays and was fully consumed by that. I had rented a place that was walking distance from where we rehearsed for our plays and that was my world… like a frog in a well. Slowly I started to learn about the film industry and wanted to be a part of it. One fine day I was approached by a casting agent who told me, "Ek film mein chhota role hai, Khosla Ka Ghosla ke director ki, Dharmendra ka bhatija hero hai aur UTV ki film hai." (There is a small role in a film being made by the director of Khosla Ka Ghosla, produced by UTV). I thought it was a cool offer and I said yes to it.
On paper the role of Dolly that you played in OLLO could have come across as crude when you first read it…
I agree that if not done properly, Dolly would have come across as a slut. It was her vulnerability that made people connect with her persona. Everybody wanted her and was trying to win her over, and just because the character played by Abhay Deol was being kind to her, she thought he was in love with her.
It wasn't the case, as he had fallen for her stupid sister and Dolly just couldn't come to terms with the rejection. The moment when Dolly tells Lucky that he can have his way with her, she was just surrendering herself fully to him because she loved him. She also felt that they would make a good couple because they both were on the fringe of society and their being together made sense.
When you were offered the role of Nagma Khatun in Gangs Of Wasseypur, it was risky…
I don't understand why people keep telling me that playing such a realistic character is a risk. I think it is a bigger risk to be playing a character where you wake up in the morning, face perfectly made up. I remember watching some film where the heroine is playing a village belle, but wore a short skirt and had her lipgloss on. I would not like to be seen as a bimbo. Some people told me that GOW will ensure that my career will turn out like that of Nirupa Roy (the mother figure) and I was left dumbfounded. When the word about my act in GOW started spreading, I started getting offers from big production houses to play the role of a mother. I turned them all down.
From what we've seen in the first part of GOW, it must have been a challenging role for you…
The biggest challenge was the ageing process that I had to enact. In the morning I was playing an 18-year-old, a 30-year-old at noon and at night I was being transformed into a grandmother. The prosthetics took two hours to get done and it was really a pain. Another challenge was the cold weather in which we had to shoot, pretending that it was summer. Having said all that, it was a wonderful experience, thanks to the director Anurag Kashyap. He loves all his actors and gives them a lot of space. He takes good care of his entire team and now I feel spoiled. It will be difficult working with any other filmmaker. I would love to be a part of every film that he makes. It could be a passing shot, or anything.
People were stunned when your character in GOW tells her husband to sleep around and 'perform well'…
The double standards that people have totally escapes me. They have no such reservations in so many other films that employ sexual puns and crude jokes. Just because the film is set in a village, they are making a song and dance of it. People in the hinterlands have such issues. The imbalanced male-female ratio is a reason why adultery is common practice there.
Why do you think a hatke film like GOW worked, despite the fact that it was pitted against the more mainstream Teri Meri Kahaani?
I think nothing sells like sex and violence and our film had lots of it. The sexual puns and the colourful language used in the film made it work. Our film ran for five weeks, while TMK could barely manage to run over the opening weekend. That in itself is no mean feat.
How different was the experience of working with your co-stars Abhay Deol (in OLLO) and Manoj Bajpayee?
Abhay is the cool dude, typical Mumbai wala… he is more like a buddy to me. Manoj, on the other hand, is a very senior actor and a much underrated one at that. I think GOW does full justice to his acting talent and he has left behind his Bhiku Mhatre act with his portrayal as Sardar Khan.
We heard that you have been signed for Sanjay Leela Bhansali's Ram Leela…
I don't know who has been spreading these rumours; it is really very annoying. Did you hear the one about me doing a film with Karan Johar? I am glad that people are talking about me, but I am not game for cheap publicity. Who knows, such rumours might even ruin the chances of me getting to work with these filmmakers. I don't understand how this PR machinery works and hope to figure it out some day. Just the other day I told a scribe that I signed a film, and the very next day I read that I am financially well placed now. Was I out on the streets trying to eke out a living in the first place? I really need to get my PR act right, or I will be in trouble. What really beats me is why anybody would be interested in knowing what I had for lunch and with whom!
Do you wish the rumour was true?
Of course, who would not want to work with an auteur like Sanjay Leela Bhansali! I really admire his vision. So what if Saawariya and Guzaarish didn't perhaps work commercially – he has created works of art. I may not like his film, but we can't deny the fact that he has created some new worlds and recreated his grand vision on celluloid. It would be a dream come true if I eventually do get to work with him. For now, I have five films in my kitty and I will make the announcements in due time.
Tell us a little about your forthcoming film Tamanchey.
My role in Tamanchey is exactly the opposite of what I did in Gangs… I play a street smart girl who wouldn't mind flashing her cleavage to get her job done.
ALSO READ: Why was Reemma Sen missing from 'Gangs Of Wasseypur' promotions?