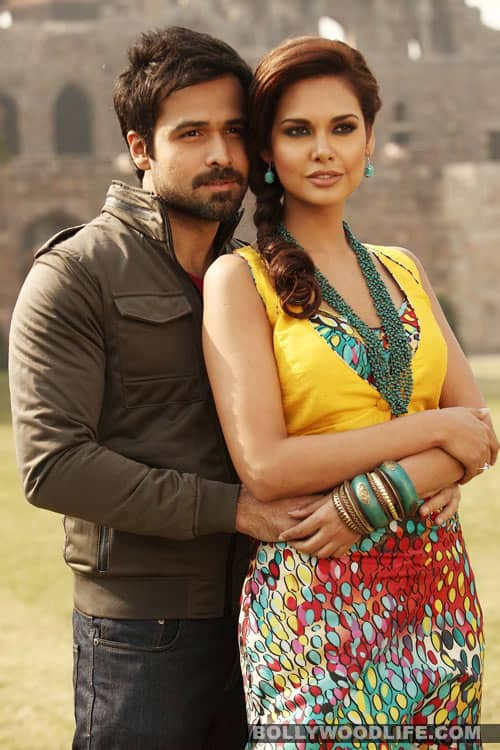 skip advertisement
Rick Roy, the designer who is famous for making glamorous gowns and sexy dresses for B-town babes shares his experience styling for a film, Jannat 2
Some time ago in 2005, a slightly drunk, crazily dressed fashion student boogieing atop a table caught the attention of the style head of MTV and Rick Roy's journey in the designing world kicked off. After going doing various stints in advertising and styling for B-towners onscreen and off screen, the young designer put his fashion quotient to use for a film. It is the soon-to-release Kunal Deshmukh's Jannat 2 starring the heartthrob of the masses, Emraan Hashmi and model-turned-actor Esha Gupta. Although, Rick's first film as a stylist is Shirish Kunder's Joker, which releases later this year.
Usually people tend to associate you with glamorous clothes, so what are you doing in a realistic drama like Jannat 2?
If you give me an Anarkali (disco chali) or Munni (badnam hui) I will follow the brief and style accordingly. I am completely a director's designer. Fortunately or unfortunately, the work I have done or people I have worked with have actually told me to make actors look glamorous or do completely outrageous fashion. So I followed that and people associated me with over-the-top (OTT) glamorous fashion. But that's so untrue. Jannat 2 in a way was a blessing to me 'coz I got a chance to show that I can make a film look stylish without going OTT. At the same time, you see the clothes make a style statement. It was a chance for me to prove that I can do whatever you want me to do. And it's not that someone who can do great gowns can't do anything else.
What was the brief given to you by the director?
Kunal (Deshmukh) was very clear that he wanted Emraan to look a stylish than he usually is in his films. Even as a street side character he wanted him to look a little trendy. Beyond that he said do whatever with the characters as long as they don't look out of place and over-styled. He wanted the film to look real, yet be stylish. He didn't want his actors to look overdressed like a typical 'hero' and 'heroine'.
Tell us a little about the clothes you made for the film's main characters – Emraan Hashmi, Esha Gupta and Randeep Hooda.
Emraan's character is of a local gun dealer and things happen so his character transforms a bit. In the first half he is this fancy-free, cocky guy, so we gave him a lot of colourful clothes. He has this wannabe look. I bought a lot of Ed Hardy kind of shiny, printed tees and made colourful corduroy jackets. Eventually his character goes through a change – so from wannabe cool he became smart cool. But he had to still look very real.
Esha plays a doctor in Delhi so she wears very simple clothes. I stylised the outfits, but kept in mind the fashion sense of a Delhi girl. I gave her jeans, kurtis, big jhola bags, silver jewellery, lots of kajal and braided hair. But in the songs we have made her a little glamorous because it's a Bollywood film. I gave her silk printed kurtis, waistcoat and heavily accessorised the look. Then there is this one fantasy song where I went my usual OTT and dressed her in super blingy clothes. I made most of her clothes unlike Emraan's outfits that were mostly bought.
Meanwhile, Randeep Hooda plays a cop and had to look very smart. This is the first time I have done a full-on men's wear, so I was worried about styling him, but he looks very nice in the film.
What was experience dressing Emraan and Esha?
Emraan is a clotheshorse! You can give him anything and he will carry it off well. When I met him he was insanely nice and chilled out. He was so confident about me that I became more confident about doing his clothes. As an actor he has no likes or dislikes when it comes to clothes in films as long as they fit him well. He doesn't like choosing outfits. As long as the director is happy with the clothes and it's within the character's personality, he's fine with it.
On the other hand, since I have worked with women earlier I was relaxed about working with Esha. Since she is a new girl she didn't have any hang-ups. Also, being a model, she didn't fuss with anything I gave her to wear. She has a fabulous body. Whatever you make her wear, she looks fantastic. She comes from the ramp, so she knows how to pull-off clothes.
You have styled for advertisements, shoots and now films. What has been the most satisfying experience so far?
I think films have been the best experience. It's the most awesome feeling in the whole world when you see your name on the big screen. Of course, it comes with a whole lot of stress, last minute changes, but every bit is worth it when you see the clothes on the big screen.
Do you intend to continue film styling?
Yeah, for now I want to continue styling for films. Once, I don't enjoy it, I will stop and run away and do something else. I have a few releases already lined up. There's Shirish Kunder's Joker, Vikram Bhatt's Raaz 3, Sudhir Mishra's Inkaar and I am about to sign some more.