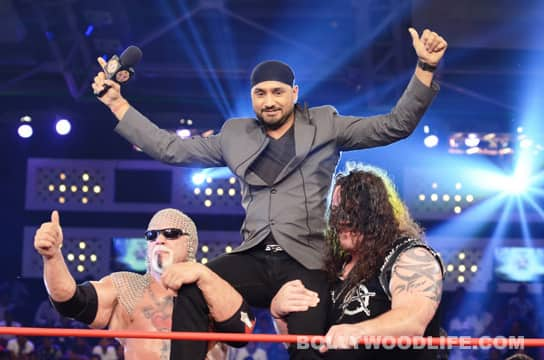 Touted as the little brother of the World Wrestling Federation championship, the new hardcore wrestling show on Colors is unoriginal, insipid and boring
When the Great Khali captured everyone's imagination with his massive build, incredible power and unbelievable fan following by exploding on to the international wrestling circuit, India suddenly woke up to a new urge: to produce its own home-bred superstar wrestlers. Ring Ka King was touted as India's answer to international wrestling championships like WWF, but sadly the attempt to produce heavyweight champions with a desi tadka seems to have gone wrong. With its predictable format and boring scripted drama, this show doesn't quit fit the bill of the great Indian wrestling dream. Ring Ka King at best titillates your adrenaline, but lacks novelty enough to keep the viewers hooked!
 What the show is all about: Backed by Total Nonstop Action wrestling (TNA), Ring Ka King is a wrestling show featuring renowned wrestlers like Jeff Jarrett, Dutch Mantell, Savio Vega and Sonjay Dutt. Cricketer Harbhajan Singh is goodwill ambassador for the show. After having entertained us with an impressive bouquet of fiction shows, format shows and a number of successful reality shows, Colors introduces a full-throttle wrestling drama. It features 30 top Indian and international wrestling heavyweight champs including Jeff Jarrett, Matt Morgan, Scott Steiner and Monster Abyss. Indian wrestlers who have received international acclaim, like Jwala, Mahabali Veera, Romeo Rapta and Deadly Danda battle it out for the title.
 Watch it for: The makers of the show have got some element bang on to draw the eyeballs. The ambience, the set and the tone of the show are very international. Attention has been paid to the smallest details of the lighting, costumes and setting. We wish that the makers could spice up the show with an engaging storyline and more high-action drama in the ring. Not much happens there. The huge plus for this show is the crowd. The spectators are really involved in the game, which makes this otherwise dull slot a bit more lively.
Avoid it for: First thing first – the bludgeoning Hindi commentary over the thanda fights is an instant put off. Siddharth Kannan is annoying with his over-the-top commentary. The fights look unreal and at times so juvenile that Ring Ka King can act as the best endorsement to let your young ones know how screen fights are orchestrated and utterly fake!
Our verdict: Ring Ka King has some renowned fighters, razzmatazz and action. What it lacks is a much-needed punch of originality.