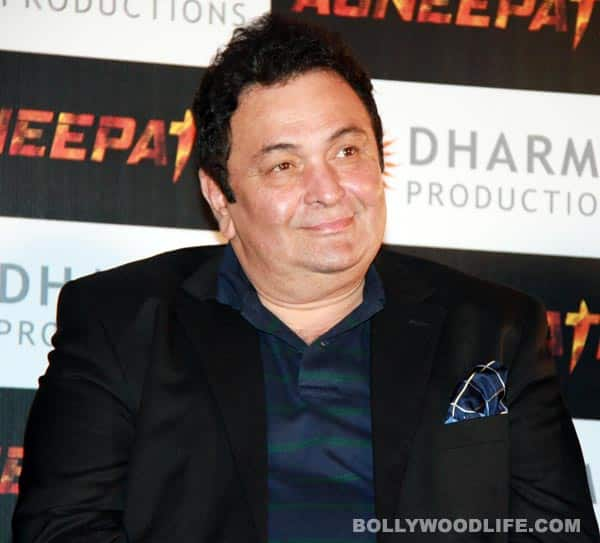 As Rishi Kapoor turns 60 today, we look at the roles that made him one of the most charming and versatile stars
Born on September 4, 1952, Rishi Kapoor made his debut in as a young lover in Mera Naam Joker (1970) under his home banner RK Films, directed by daddy Raj Kapoor. He made his debut as lead hero in Bobby (1973), also his father's film. The Kapoor khandaan ka chirag went on to become the quintessential lover boy during Amitabh Bachchan's angry man era. Rishi was the complete antithesis of Big B – the biggest star of the '70s and '80s – and his films a complete foil for the dhishum dhishum cinema. And that's what helped him create space for himself in the industry.
But the same chocolate boy image that brought him fame also overshadowed Rishi, the actor. His childish looks and sweet persona did win him a huge female fan following, but not the accolades that he expected. The awards always eluded him. It's only now, at the age of 60 that Rishi is getting to experiment with his roles. Yet, there are several of his fantastic performances that bring the actor in him to the fore. And it only proves that Rishi has always been a versatile hero – something that many are realising now. As he becomes a senior citizen today, we think it's never too late to applaud a good performer, right?
P.S: He is also one of the few stars to have worked consistently throughout his career since he made his debut. Yes, Rishi has never taken a break from acting. If not the main lead, he is seen in performance-oriented character roles.
Bobby
Rishi just didn't look like a debutant in this movie. The young actor played his role of the lover boy with natural charm, and made many ladies swoon over him. It became obvious that this Kapoor lad was born to act.
Rafoo Chakkar
Very few men can dress as a woman and look beautiful. Rishi's cute face and slender physique helped him carry off his drag avatar in this film. It was also one of the first films to have a full-fledged plot revolving around a hero in drag, and Rishi pulled it off with grace!
Amar Akbar Anthony
Despite working alongside the more popular stars of that time – Amitabh Bachchan and Vinod Khanna – Rishi managed to make a great impression as the boy next door Akbar. He pulled off the comic sequences with ease and stood up to Khanna and Bachchan with great confidence.
Karz
The Subhash Ghai film became Rishi's biggest solo hit. Rishi danced his way into people's hearts and he proved with his powerful performance that he was a completely reliable hero – he sang, danced, beat the bad guys and romanced! And he did a great job of bringing the drama and the spirit of revenge alive.
Prem Rog
Rishi played the role of the benevolent Devdhar and portrayed the loss of love perfectly. His character brings both love and faith back into the life of a widow played by Padmini Kolhapure. It was one of Rishi's most understated performances.
Chandni
Sridevi definitely overshadowed Rishi with her meaty role and dhaansoo performance. Rishi's sweaters and his growing tummy, on the other hand got more attention than his role. But I must say that he portrayed the fun-loving man in the first half and the pained differently abled lover in the second half with great ease – a sign of a versatile actor.
Luck By Chance
As the roly poly fillum producer, Romy Rolly, Rishi was completely adorable. His comic timing was perfect, alongside one of his favourite co-stars Juhi Chawla. His powerful performance made a huge impression even though the film was a multi-starrer. This role definitely brought him back into the reckoning.
Do Dooni Char
Rishi played the part of a middle-class Delhi teacher in this slice of life film. He had never played a role like this in his life, but he did it so convincingly that he won the hearts of the audience. Thanks to his lovable character and natural acting, the film also got the National Award.
Agneepath
Rishi's first negative role came to him at the age of 59 with Agneepath. Interestingly, the actor wasn't very convinced whether he would pull it off. But after watching his creepy Rauf Lala act, we shudder to think of his evil side! We wouldn't be surprised if he walks away with some awards for his portrayal of the drug and women trafficker role that he played with such conviction.
Can you think of some more memorable roles of Rishi Kapoor?