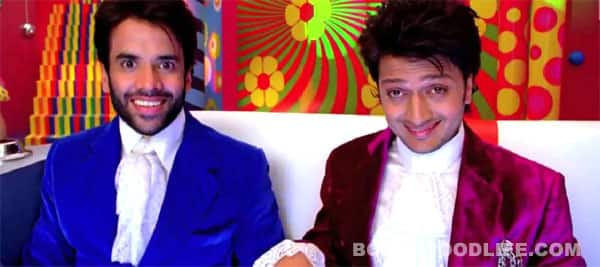 In his latest column, Cineswami compares the song Dil garden garden from Ekta Kapoor's upcoming comedy Kyaa Super Kool Hain Hum to bubble gum. Want to know why? Read on…
So, it's official. As a nation we crave inanity. As a nation we make Rowdy Rathore and Bodyguard hits. As a nation we are not to blame because we are besieged from all sides. The economy has slowed alarmingly, politicians and their cronies are demonstrably corrupt and in most cases are illiterate megalomaniacs, infrastructure is in shambles and if you are unfortunate enough to be young and live in Mumbai, there is Dhoble's danda of the hockey variety to fear. To top it all, and more importantly, after buying the cricket World Cup last year the Indian team has had such a spectacular run of losses that we consoled ourselves by supporting the IPL in large numbers. After all, whoever wins the IPL it'll always be an Indian team.
It is in such a scenario that Balaji motion pictures released the latest track from their irreverent comedy Kyaa Super Kool Hain Hum, a track that features much motion titled Dil Garden Garden. The song went viral in hours across India, a welcome distraction indeed from the cares of daily life. Composers Sachin-Jigar have delivered a track that is symptomatic of the taste of new India – instantly popular bubble gum that loses its flavour and is forgotten in days. For the video, director Sachin Yardi and choreographers Bosco-Caesar didn't have to go far for inspiration. They simply dusted off their Austin Powers DVD set and just replicated whole, down to the graphic flowers popping out of the screen. Of course, might be argued that Yardi and his choreographers were simply paying homage to London's Swinging Sixties and Carnaby Street. But that's balderdash. The only swinging sixties they are likely to know are some elderly fisherwomen and, Carnaby? What bird name is that? (To translate from the Hindi).
However, a trend is a trend and since India's online generation have forgotten real world skills and choose to skulk in the safety of the internet, here are some gems. Let's begin with the sound voices of reason:
Lindsay Pereira: Dear people suggesting I listen to a song called Dil Garden Garden: I am not the target audience. I'm literate. Please go away.
Saurabh Datar: Dil Garden Garden? Perfect. Gardening is the only thing Tushar Kapoor can actually do.
Miss Gupshup: So that song Dil Garden Garden Ho Gaya, is dedicated to Gulshan Grover?
Utsav Mitra: Who produces movies where Tushar Kapoor and Riteish Deshmukh are dancing 2 songs like 'Dil Garden Garden' ? And who pays to watch them?
Malvika: People who r saying gud things abt Dil garden garden song frm d movie kya supercool h hum shud undergo Lie detector Test immediately..!!
Kun: So there's a song called "Dil Garden Garden".Man I Hate Bollywood.
Harish Shah: Embrassing is Undertsanding Dil Garden Garden Ho Gaya.
Now, having pointed out some of the negative comments, it is my bounden duty to highlight some of the thousands of ecstatic ones. But I won't. Because I'm like that. Now run along you Garden Garden lovers back to imbecile land and be good boys and girls. Electric shock therapy can only do so much. You need to make an effort from within. And don't forget to wipe that drool.