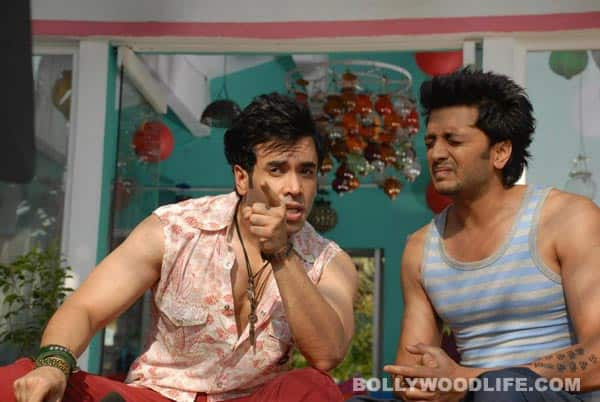 The duo of Kyaa Super Kool Hain Hum go crazy with the English translation of a Hindi phrase in a song. We go one step ahead
When Gulshan Grover mouthed, 'Dil garden garden ho gaya' in Khiladiyon Ka Khiladi, we are sure he didn't expect that it would one day become the catchphrase of a song. But that's what has happened. The funky song from Kyaa Super Kool Hain Hum has everyone exclaiming 'Dil garden garden ho gaya'. That's an interesting translation of the oft-used Hindi phrase Dil baag baag ho gaya, which actually means, 'the heart is blooming with happiness like a garden'. If they can do it to one line, we can do it to the rest of the song too, right? Here's our take on the first few lines of the song, translated in the same nonsensical fashion:
Arrey kacchi kali tu hai main hoon bhanwra
Arrey pad gaya hai mujhko dil ka daura
Search maar maar ke hai phatka kha ke yun
Kamar ka jhatka kho gaya
Ke dil garden garden ho gaya
Hey, raw bud you are I am butterfly
Hey, has fallen me heart's attack
Search beaten beaten then have slap eaten such
Waist's movement got lost
That heart garden garden became
Ke bhanwra bagiyan mein kho gaya
Ke dekha jabse tujhe hai jaane ho gaya
Main paani paani dil ka visarjan, ho gaya
Re dil garden garden ho gaya
That butterfly in garden got lost
That saw from when you have wonder what happened
I water water heart's immersion happened
Hey, heart garden garden became
ALSO READ: Hema Malini: Basanti will sell you!