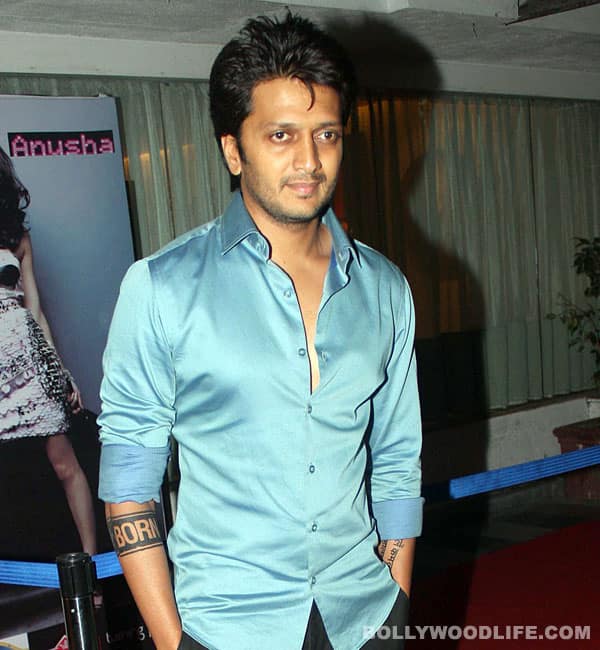 Naughty comedy and double-meaning jokes have the actor embarrassed about his role in the Ekta Kapoor production
Riteish Deshmukh has every reason to be ashamed of what he's done in his upcoming film, Kyaa  Super Kool Hain Hum. Those who have seen the promos of the film will agree wholeheartedly. The Ekta Kapoor production stars Tusshar Kapoor and Riteish in the lead. The duo will be seen doing shameless and unmentionable antics in the movie. "My character in the film calls disk, d***s. There are still many people who call it d***s and women think it differently. I am not ashamed, but embarrassed by Kyaa Super Kool Hain Hum," said Riteish in an interview.
Kyaa Super Kool Hain Hum, we hear, is replete with seedy jokes and a never-ending stream of tasteless lines. Clearly, director Sachin Yardi is using smut, sleaze and forced vulgarity to grab eyeballs.Wasn't Riteish hesitant about enacting the tacky character and mouthing sordid lines? "When you actually enact some scene, you feel, 'What am I doing? Have we lost it?' But that's the humour and it is done in a very innocent way. It's a naughty comedy. The genre itself suggests that there are going to be some naughty stuff. You will get to see lot of non-veg stuff in the film, but it is suggestive, not directive," he added.
Now that the film is slated for a July 27 release, we wonder if Riteish will dare to hold a special screening to showcase his naughty acts to his friends and family.