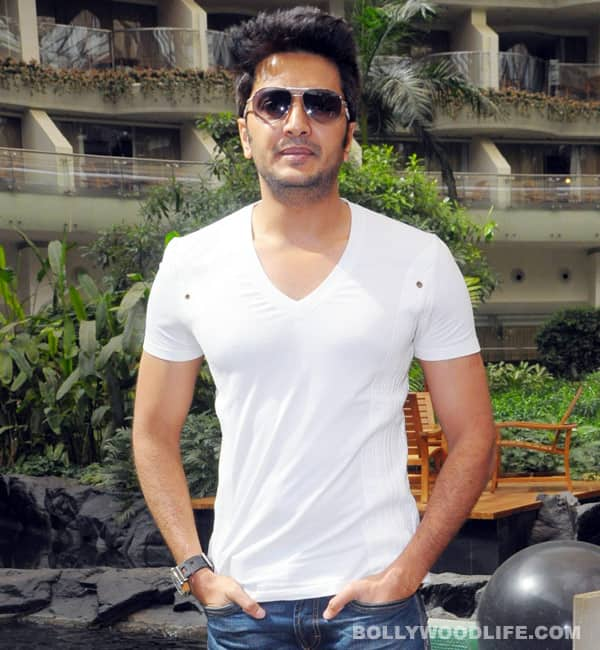 When we talk about comedy, Genelia D'Souza Deshmukh's husband certainly stands out from the rest of the actors – it is inherent to his personality, wethinks!
He is polite and very down to earth, despite being a star and the son of a prominent political family. The first thing we noticed about Riteish Deshmukh was his naughty grin. Don't be fooled by his innocent face; this lad knows exactly how to poke fun at something, anything, though with subtlety and finesse. An art wethinks he has mastered after doing so many comic capers. And when we caught up with Riteish, we got first-hand experience of his antics as he talked about his new adult comedy Grand Masti, his co-stars and a certain dear friend…
It took a long time to make Grand Masti…why?
It took nine years to find the right script. Sometimes it does take time and while the script was being written, Kya Kool Hain Hum and Kya Super Kool Hain Hum released. So then we had to think how to take this genre of humour forward with our film. I did Dhamaal and Double Dhamaal with Indra Kumar in-between as well. That's when Indra Kumar said let's make the sequel of Masti and we all started thinking about how the film should be. Also, at that time I was shooting Kya Super Kool and everybody knew what kind of humour it had, so the writers of Grand Masti wanted to surpass the level of humour. So in Grand Masti they have even surpassed the visual adult comedy.
Is Grand Masti a continuation of Masti?
No…. it's not a continuation, but altogether a different story. The only common thing in the original and the sequel is the three male characters. They have been set up in a different situation in Grand Masti.
You are the stalwart of adult comedy in Bollywood and at the same time you have been accepted by the family audience too. How did you manage that?
Yes, I should get an award for doing so many films in the adult comedy genre (smiles)! It's a very tricky thing to do an adult comedy. Thankfully I haven't been tagged as an 'adult comedy actor', coz my other films – be it Heyy Baby or Dhamaal – have been bigger successes then my adult comedies. But basic thing that I have maintained is whenever an actor is playing a character or is in a situation, he needs to be innocent. He needs to be the victim. He cannot be overpowering the situation and try to be slightly cocky about it. Then it becomes like 'Oh, he means what he says'. He should be a sorry guy that has got caught in a situation. So the audience should feel sorry for him and the situation has to be funny to evoke laughter at the same time.
Your co-star Aftab Shivdasani says you are the naughtiest of all…..
Do you think I am naughty…look at me (smiles)! And also never believe what Aftab says. In fact, Aftab and Vivek Oberoi are very naughty. They are monsters. They are stalwarts. I used to see their films when I was a kid (grins).
What does it take to make a good comedy film in this genre…or in general?
I think, a good script. I always say that we are just mediums, we are actors. We will perform what is written. It is easy to perform a good scene and if the scene is not funny, it takes a lot to make it funny. Sometimes we fail, 'coz there are times when the audience thinks that we are trying too hard to be funny. But we aren't; it's just that the scene wasn't written funnily. If the scene is written very well and there is an inherent punch, then an actor doesn't have to do anything. He just makes a poker face, says a line and it turns out funny. So apart from good script, if you have good actors, it becomes easier.
You are an actor; you recently turned producer and also did a reality show – which do you enjoy most?
I actually enjoy films. I am also enjoying the space where I am producing and television for me is being free…no pressure and being myself. I go on the sets and have fun. I get entertained. But production is something that I am keenly enjoying as of now.
Is directing the next step?
Not right now. I am not ready for that, I think.
Will we ever see Riteish Deshmukh in a hardcore action flick flaunting his six-pack abs?
Six-pack abs… in that case I have a long way to go (smiles)! As soon as they are ready, sure. A hardcore action film – something interesting is coming up, so maybe the audience will see me in that genre as well.
Salman Khan is doing a cameo in your Marathi film Lai Bhaari. How did that happen?
It is very kind of him to want to be part of this film. He met me at a restaurant and asked me what I was doing. So I told him about Lai Bhaari and he said, I want to do a scene in it…give me a role. And I was like, how can I give you a role! He is extremely gracious and a dear friend to come up and ask me if he can be part of the film. These gestures are something that a person will always remember. He is someone who stands by you and will always be there for you. He is a special person.