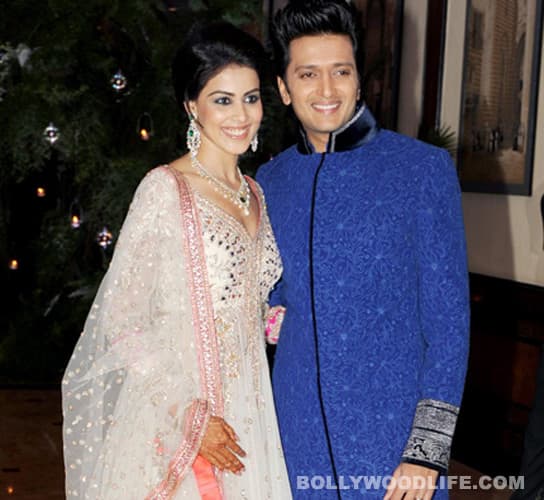 The newlywed boy of B-town was busy making his wife Genelia giggle on their first V-Day post marriage
Riteish Deshmukh and Genelia got hitched barely 10 days before Valentine's Day, and much to our surprise, they chose to go on work (promoting Tere Naal Love Ho Gaya) on the special day. Tere Naal Love Ho Gaya, promises to showcase the couple's love equation in a refreshingly different way on celluloid. At the film's promotional event on Valentine's Day, Riteish was in his usual fun element, entertaining the crowd with his tongue-in-cheek humour, while his lady love giggled non-stop.
When asked about her on screen love story vis a vis the equation she shares with Riteish in real life, Genelia quipped, "Well, I kidnap him in the movie, I won't do that in real life." The storyline of the film bears some resemblance to the couple's real life. By their own candid admission, Riteish and Genelia became friends first then fell in love and now are married! In the movie, too, the couple maintain that they do not fall in love instantly, in fact their love blossoms almost unexpectedly. When asked why they are spending their time to promote the film instead of devoting it to their first Valentine together as a married couple, Riteish replied, "We got to spend Valentine's Day together promoting a film that we both love. And the film is about love." Now that is a valid point no!