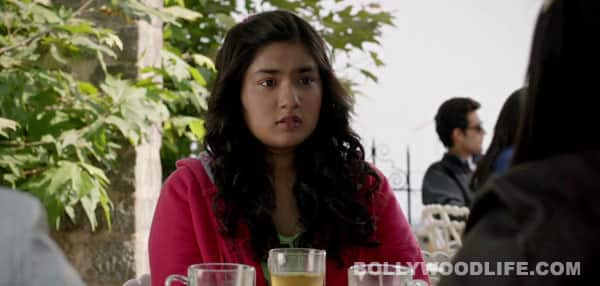 The lead girl from Gippi reveals how she thought that working in Bollywood was a cakewalk until she did a film and realised that it's not all fun and games after all!
Riya Vij, the cute girl in the next Karan Johar film Gippi is as cute as a bug's ear. Riya's mum runs a NGO and her dad is an entrepreneur. When she was first offered Gippi, Riya jumped six feet high, she confessed, and then indulged in a small celebration with near and dear ones. A girl of few words, she blushes when she talks about the RK she adores, "It would be great if I get to share screen space with Ranbir Kapoor some day!" She goes delightfully scarlet. A huge admirer of Deepika Padukone and Parineeti Chopra, the kid makes it clear that she likes a couple of actors, but won't consider herself a huge Bollywood buff.
Starting out slightly tense, Riya loosens up as the conversation gains momentum. Glancing at us demurely, she handles the interview pretty well for a novice…
So how's the experience been, Riya?
It's been really nice shooting and everything, very different. I thought I would be very nervous on the first day of the shoot, but surprisingly I was pretty comfortable, 'coz the whole crew was so friendly and Sonam (Nair) was more of a friend than a taskmaster.
Did mum set any dos and don'ts for you while you were shooting for the film?
(Laughs) No, my mum didn't set any dos and don'ts; she is not that type.
Do you want to pursue acting after this?
Not sure yet, but if I get an opportunity, then why not! As long as it doesn't interfere with my studies, I don't mind taking up more films. I wanted to become a dentist, but let's see if that happens.
Could you relate to the scenes you were shooting in the film?
Some of them I could relate to. In real life, people don't bully in such an over the top way as it's shown. But it's not very difficult to deal with bullies. In the film Gippi gets very embarrassed with her mum. In real life too, I feel very shy when my parents are around. There was one scene in the film when I was cheating in my test, so that part came pretty naturally to me. Gippi, in the film, is very conscious about her weight. Personally, even I get nervous when people talk about weight related issues in front of me.
Have things changed for you?
Yes, I have started getting a lot of attention, but my close friends – they are always there. Their attitude towards me hasn't changed much, so I am happy about that.
You look pretty fit now – did you have to put on weight for the film?
Ya, I had to put on a bit of weight, but now since it's been a year ago that we shot the film, I have lost some of those kilos.
 What kind of films do you like?
I love actions films.
Ever dreamed of working in a Karan Johar film?
I never thought of being a part of a Karan Johar film before, but like every other kid, I always dreamt of being as pretty as Kareena Kapoor and as tall as Aishwarya Rai Bachchan.
You had difficulty going over the top in the film – why?
I get extremely conscious to do so. In fact, I am much shyer in real life. The film also helped me build my confidence and become a bit of an extrovert.
What message you would like to give adolescents who aren't very confident of themselves?
At this age, we all feel very insecure. Even if you are better than someone else, you will always feel conscious about something  or the other. I think these are the toughest years. We should all just be ourselves and be comfortable with that.
What were your thoughts about Bollywood before you entered the industry?
I always thought it was a very glamorous world. The actors come in front of the screen, have fun, dance and then leave. But once I got into this, I realised how tough and tiring the whole process is. It's not easy at all. Earlier I thought it's the easiest career option ever.
What are the things parents shouldn't do?
Parents shouldn't embarrass their kids when they are outside. They just don't realise that there are other people watching you. Even in the film, Divya Dutta – who plays my onscreen mum – makes me cringe by asking 'Potty kia na, beta?' in one of the scenes. Now that kind of thing should be kept at home. At this stage we are already concerned about studies, so parents should not make it worse by pressurising us more.
What do you like to do in your spare time?
I like to play the piano and paint.
Your views on size zero…
I think nowadays curves are in – you don't have to be size zero, you should just be yourself!