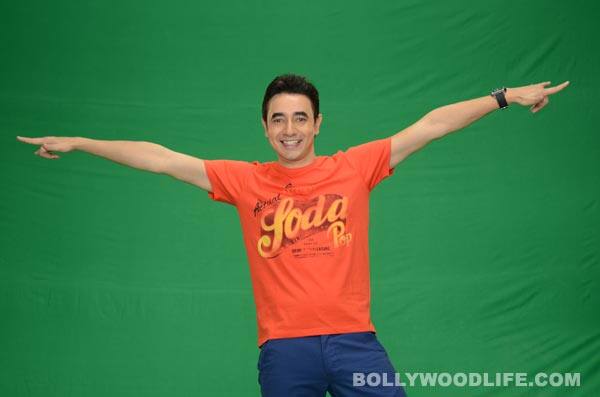 Puranjit Dasgupta, popularly known as RJ Mantra, is all set to host a new show on music channel Sony Mix and he tells us all about it
Known for giving life to many insipid shows and boring characters, Mantra makes sure he lives up to his colourful image while talking to us. So while I struggle to hear him on the phone, battling with the awful network and third-party intrusions, Mantra makes sure he makes the struggle much easier with his audible baritone and his pleasant sense of humour.
Here's what he has to say about his show, about Bollywood and about conceited TV anchors who think they are God's gift to the world…
So what's your show all about?
The show is called Tippani, and as the title suggests, I give tips to the audience. I give them inside information about music and try and make their moments beautiful through a song. At the end of the day it's a music channel. Everybody has a different mood and for every mood there's a different song. So which song will suit every mood is what this particular show is all about. For instance, if it's raining, I would give tips on how you can go for a long drive, make the most of the rains and listen to the perfect song that complements the lovely weather. It is basically an interactive show.
Are you planning to instill your usual element of humour into this show, as you usually do?
Yes, 'coz it's going to be hosted by me it is definitely going to have some amount of humour. But I won't call it a comical show; it's light-hearted humour.  It's very fresh, very young. We also talk about new music applications which I think will help us connect with the tech-savvy audience big time.
Looks like you are trying to get the VJ era back. There was a phase when popular VJs like Cyrus Broacha, Purab Kohli, Maria Goretti kept the audience hooked to music channels…
The music channels are dying and most of them are turning into GEC channels. It is highly upsetting. The day and era of the VJ is petering out. And I and my friends are still trying to keep it alive. The VJ world will definitely suffer a setback if more people like Ayushmann Khurrana become big stars. I am happy for him, but I think good VJs need to exist. It was such an awesome time when Ranvir Shorey, Luke Kenny, Vinay Pathak, Nikhil Chinappa would entertain us. Even I am doing TV and films, but I do make it a point to do what I enjoy doing the most – that is anchoring – realising the fact that music channels really need a boost at this point in time.
Do you ever feel that your creativity is hampered when you are hosting or anchoring a show?
I know every creative person has an ego, but I think it is a wonderful thing to have. It will just keep you on your toes and push you to do better, but it has never really hampered my creativity. At the same time, if I have my ego, I also have my humbleness. So the negative things just motivate me to go on…
I saw a couple of episodes on Comedy Circus. Your stand-up comedy style is very satirical; you think satire works with the masses?
I am the kind of person who works only for myself. Even if I do a Comedy Circus, I'd like to believe that I do not belong to the typical stand-up comedy batch of people. I am not a Kapil Sharma or a Raju Srivastava. I am an actor, performer and theatre person. So Comedy Circus, according to me, is not a TV show. For me a CC is a play, and when I am doing a play I make sure that I do action, comedy and wrap it up with a message. I hang around a lot with my writers and make it a point that something meaningful comes out of my act, even if it's just five percent. I am just showcasing theatre on TV.
Who are the anchors you seek inspiration from?
I think Jay Leno is overrated. But Shekhar Suman is brilliant, and the best thing about him is that he has a great command over Hindi and English.
Your Bollywood career didn't exactly take off – what do you have to say about that?
I haven't exactly paid much attention to that, but I think I am done playing the hero's best friend. Maybe I come across as a good friend. I played Emraan Hashmi's friend in Tum Mile and then I graduated to playing Abhishek Bachchan's friend in Game. I played Ali Zafar's friend in London Paris New York. I am done, you know. There are filmmakers who have good roles in their minds, but all the films that I am offered now are of the same kind. I don't think I have the courage to do them any more.
Apart from being articulate and having a pleasing personality, what else does an anchor need?
Apart from all that, I think you need to learn how to be the viewer's friend. I am not here to enforce my thoughts on you. I am just here to share my views and as long as you have that attitude, I think it works. A lot of hosts try and overshadow the show and think that are bigger than the product, but what they don't realise is that that's when the show suffers. A lot of anchors try being over-smart, jump around and forget the main purpose of the show.
What's the USP of your show?
It's a music channel with regular music content and very youth and very technology centric.
If you had the chance to come up with your own show, what kinda concept would it have?
It's already on my mind. But it will definitely have to be an outdoor show shot at the most unique locations. It can't be indoors.