ROCKSTAR: Is this the story of Ranbir Kapoor's new film?
BollywoodLife
Last Updated: 3.34 PM IST 11.08.2011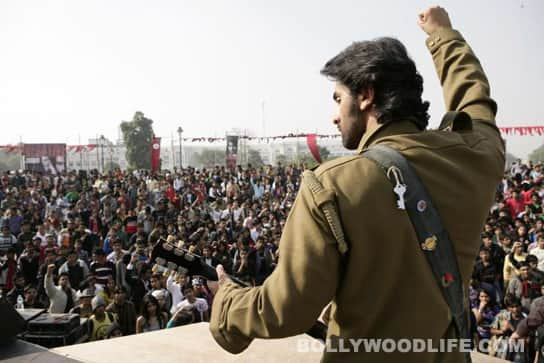 Imtiaz Ali's musical hits the theatres this Friday and we heard about the story from someone in the know. Thus, in keeping with our tradition of sharing all the goss and buzz that we chance upon, here's what we think is the story of Rockstar
This is the story of Janardhan Jakhar, a boy-next-door who harbours the ambition of being a rockstar a la his idol, Jim Morrison. He is from a humble background, but that doesn't stop him from chasing his dream of making it big in the musical world. Thanks to his ignorance and silly attitudes, all he gets is ridicule and humiliation from everyone. Just when he is about to give up, his mentor (a professor) advises him that all musical stars – all artistes, in fact – have one thing in common: tragedy. They have all suffered painful heartbreaks that, in part, make them what they are. Janardhan picks up that single keyword: heartbreak. To get to that state of being, he needs to fall in love. For that, he chooses Heer Kaul, who is the undisputed diva of the college campus, beautiful, talented, arrogant, rich and unavailable. Hoping that she will break his heart, he sets out to woo Heer. Rockstar is the journey of a boy who leaves behind his identity as Janardhan the yokel to become Jordan the rockstar. The story captures the essence of his journey of soul-searching, his rise to fame and his self-destruction… all of which comes at a price. He loses his heart and the peaceful existence he knows as Janardhan Jakhar, forever. This version of the story has really got us all excited and we can't wait to watch it and find out for ourselves whether it is true. Watch this space for more, reviews and everything else about Rockstar.
First Published: 11.00 AM IST 11.09.2011