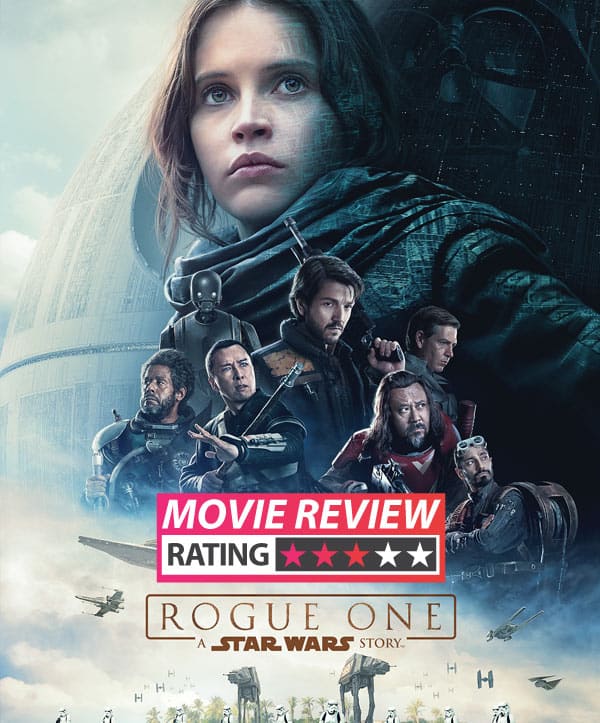 In 2015, we finally got a proper Star Wars movie after years of waiting and going through those lackluster prequels. The Force Awakens, while not being the perfect intergalactic adventure that we expected, was still an enjoyable treat and gave us 'A New Hope'. We would have had to wait till 2017 for another Star Wars movie, if it wasn't for the spinoff, Rogue One that releases this Friday. Directed by Gareth Edwards, Rogue One: A Star Wars Story stars Felicity Jones, Diego Luna, Donnie Yen, Mads Mikkelsen and others.
Read our review ahead to find out whether Rogue One has in it to carry the Star Wars flag high or it is just another money-milking opportunity by Disney to cash in on our nostalgia.
What's it about
Though set in the Star Wars universe, Rogue One doesn't revolve around the Skywalker siblings or Han Solo (though one of them does make an appearance). Instead it is set in a time before Luke found his destiny, when the infamous Death Star was still being built. Jyn Erso (Felicity Jones) had her father Kalen (Mads Mikkelsen) taken away from her by the Imperial army when she was a child. He was a scientist who helped in building the Death Star but defected when he learnt about its purpose. Kalen is brought back to forcibly work on the incomplete Death Star project by Director Krennic (Ben Mendelsohn), himself is a puppet of a certain dark Jedi.  Years later, Jyn is recruited against her will by the Rebel Forces, so that they can use her to reach her father. Accompanied by Rebel's officer Andor (Diego Luna) and his snarky Android K-2SO, Jyn decides to find her father and steal the Death Star plans so that they can fins that loophole to destroy it. They are not alone in their mission as they find new team-mates in a blind ninja monk (Donnie Yen), his assassin friend (Jiang Wen) and a defected Imperial pilot (Riz Ahmed).
What's hot
Let me start off the positives with the biggest compliment – this is the most beautiful Star Wars movie ever made. Gareth Edwards is known to have an eye for visually appealing scenery, as was evident in Godzilla and his debut Monsters, and he uses his biggest strength in creating some striking imagery for this spinoff. Be it just random shots of alien planets, or when the debris of just destroyed planet entering into space or Vader's plane appearing out of nowhere in the climax, each of these frames will suck you in its imagery. Another pat on the back is needed for how this spinoff gets neatly tied into the main canon despite lacking the original main characters. Of course, the idea of rebel forces stealing the Death Star plans is a fantastic one, building up on the crawling commentary of the first Star Wars movie. There are countless references that hark back to the original franchise, many of which you can only catch on multiple viewings. I also loved the fact that they didn't exploit the iconic character of Darth Vader. If any other director would have got hands on what is supposed to be the greatest villain of all time, they would done with it what Suicide Squad did with Joker. Thankfully, Edwards puts Darth Vader to minimal use but deriving maximum impact. While his entry scene is whistle-worthy, His scene in the climax is not just the best scene of this year, but of the entire Star Wars movie franchise. Though the movie is dull in parts, the third act enlivens it up considerably and delivers nearly an hour of action-packed visual extravaganza, tinged with the fear of death. It's like Saving Private Ryan set in a galaxy far, far away. Among the rest of the characters, Donnie Yen's martial arts expert and K-2SO (voiced by fantastic Alan Tudyk) stand out. The special effects is impressive, especially in the way they created certain characters from the original trilogy using CGI.
What's not
I appreciate the fact that Gareth Edwards wanted to make a Star Wars movie bereft of kid-friendly cheesiness associated with the original franchise. However in his attempt to do so, he attempts to make the movie so bleak that it gets too serious for its own good. This makes the first two acts so dull that we won't blame you from feeling very fidgety and pray for Darth Vader to appear and make things lively. Another problem I have with Edwards' working style is that he gives more prominence to visual imagery than to developing the human characters (a big flaw with the Godzilla movie). Here also he repeats the same mistakes, as most of his characters remain underdeveloped, including lead protagonist played by Felicity Jones. Here was an opportunity for the makers to create a Guardians of the Galaxy-like bonding between the heroes, which never happens. So when deaths strike the team in the third act, we don't feel the emotional gravitas the scene wants us to feel for these characters. Bloodline's Ben Mendelsohn, a fine actor, give a terrific performance as the villain, but his character again is very sketchily written. And pray, why use accomplished actors like Mads Mikkelsen and Forest Whitaker in roles that can be played by just anyone. The over-liberal use of cliches and ex machinas don't help matters either.
What to do
Rogue One is certainly a proud entry to the much loved franchise, but it is certainly no Empire Strikes Back that it so want to be in the revived canon. The serious tone that embalms the entire movie feels a bit jarring when compared to the family-friendly franchise. However, the movie boasts of some terrific visuals, an action-packed third act and Darth Vader at his menacing best even in that small role. An engaging one-time watch, for sure!
Rating:
out of 5
Reviewed by Sreeju Sudhakaran
* Poor
** Average
*** Good
**** Very good
***** Excellent