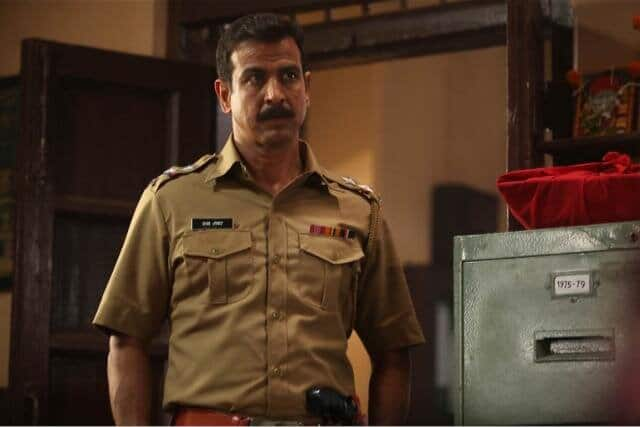 If Udaan brought Ronit back into films, Boss has straight-away catapulted him into the big league
Playing the main villain opposite Akshay Kumar, in a commercial potboiler, is in itself a big feat and winning rave reviews for it is adding a feather in his cap. Terming his malicious cop act as brilliant, critics went so far as to give the film half-a-star more just for Ronit Roy.
He and his dialogue from Boss were trending on Twitter with tweets like 'What a dialogue sir, Maut ko toh yunhi log badnaam karte hain, takleef toh zindagi deti hai (People have unnecessarily spoiled the name of death, it's life that actually troubles more) has made me watch the movie,' and 'I feel Ronit is the new hero in town.' What's more, the actor currently seen in TV show Adaalat, has several films in his kitty with more in the offing. He will be seen next in Ugly, again as a cop, and 2 States in a pivotal role. A tete-a-tete with the actor on his landmark role and more…
You have won rave reviews for your performance in Boss after Udaan…
It's great being part of a good film. I am a huge fan of Bollywood commercial genre and I think Akshay (Kumar) was in his element in Boss. The climax fight scene between us was tremendous. I think Akshay has rubbed off on me (smiles). And yes, it's a nice feeling when people appreciate you after all the hard work that you have put in.
What were your thoughts when you were offered the role?
I was completely taken aback. The script was very interesting and I knew it would be a wonderful commercial film. However, I was really surprised as to why a superstar like Akshay Kumar wanted me — with an image of Mihir Virani (Kyunki Saas Bhi Kabhi Bahu Thi) and Rishabh Bajaj (Kasauti Zindagi Kay) — to play a menacing villain opposite him! Secondly, I worried how could I beat up Akshay onscreen and make it look convincing.
What convinced you?
The director (Anthony D'Souza) told me my character Ayushman Thakur was most suited to me and Akshay was okay with it! That's when I thought if they are convinced about it, I should do it.
How did you prepare for the role?
I had to really workout to look convincing bashing up Akshay! Apart from the role being really dark, I had to prepare mentally — the character was ruthless. I had to change my physicality to challenge him. I trained for 12 weeks and now I can say, it almost killed me, but I had to do it to match up to Akshay's standards. I did cardiovascular and weights among others. I followed a strict diet which used to change every day. Basically I went off bread and biscuits and ate healthy food. I am a vegetarian but I started eating fish.
How was it working with Akshay?
Akshay does the most difficult things effortlessly. He has a casualness and ease about him which instantly makes you comfortable. I remember shooting at the back of the beyond near a village in Thailand. It was a cement quarry and there was no sign of life — that's where the climax was shot. We had to shoot in 47 degrees heat amidst gravel stones on the ground. On the first morning of the shoot, around 5 am Akshay told me 'listen you look stressed. Sochna chhod de, just take it easy.' And he being a big prankster proceeded to lighten the atmosphere with his pranks. He also went to the extent of seeing to my diet. He led by example. The hand-to-hand fight between us is my most memorable scene in the film. We were falling and cutting ourselves on the stones, but it was challenging because usually you don't see such fights in the climax.
You seem to be repeating your cop act in most of your films…
Yes, but every cop is different. Ayushman Thakur of Boss is nothing like Raja Tambat of Shootout At Wadala. And Ugly, is a different kind of cinema — it is dark, it brings out the ugly side in everybody. And I am playing the protagonist. I am also doing a guest appearance in 2 States as Arjun Kapoor's father. I am doing it purely on Karan's (Johar) conviction — he told me it's a significant role.
No plans of leaving TV for films?
I have a commitment to my producer and viewers and I will continue playing KD Pathak in Adaalat.
Story Source: DNA