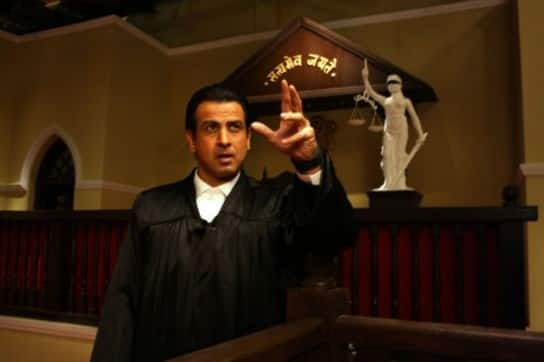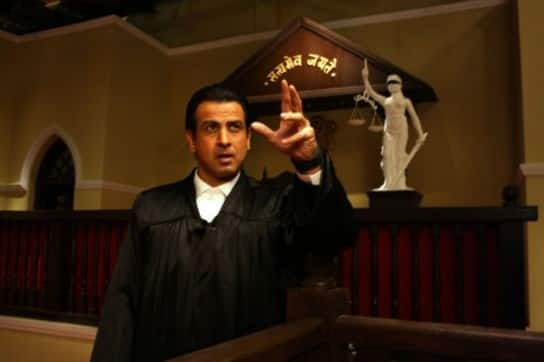 And that's the only aspect he shares with his character, insisted the veteran television actor as Adaalat celebrated the completion of 100 episodes
Ronit Roy is one of television's highly paid actors and it's not difficult to see why. He was as much a delight to watch as he engaged mediapersons in a fun chat last night as he is on his show Adaalat. He and his fellow cast and crew members were celebrating the completion of 100 episodes of Adaalat on Sony Entertainment Television. In between mingling with the other guests and rushing to catch a flight to Bangkok, he took a few minutes to talk about his character KD Pathak, playing a lawyer and milestones of life, and take a dig at his own legal troubles.
During the chat, several video photographers repeatedly requested him to look straight into their cameras. Ronit instead joked, playing on the different meanings of the word, "I am straight. I am absolutely straight. I promise you I will always be straight. That's the only thing KD Pathak and I have in common – we are both straight." He also said that he's got great feedback for his portrayal of the incorruptible lawyer. "Professional lawyers who work out at the same club as I do say, 'How did you do that? We never thought of it!' It's nice when your work is appreciated."
As for completing 100 episodes of one show, it's not something new for Ronit. He has done it several times over during Kasautii Zindagi Kay and Kyunki… Saas Bhi Kabhi Bahu Thi. "Every time you reach a milestone in a show or in your life, you take a deep breath and think now you can relax. But then next instant you realise it's actually not an option as life is all looking forward and not looking back." Playing a lawyer was a new thing for him and he said the role does have its advantages and disadvantages. "In a daily soap, you have maybe twelve lines per episode. Here, you have about 200 lines. When I first wore the lawyer's costume, I wondered if I would be able to do it. I am not a lawyer to fight anyone's case, but now, after so many episodes, I can say I have gained enough knowledge about the law and the (Indian Penal Code) IPC that no one can take me for a ride. "
When he was asked if there was any celebrity's court case that he would like to fight he kept his answer simple. "KD Pathak fights for those who are economically unable to hire good counsel. You will agree that the celebrities who have cases pending – even I have a minor case pending – are not economically troubled. And you'll also see how beautifully I did not answer your question," he grinned. Ah Ronit, we did and loved it!
ALSO READ: Ronit Roy idolises Anil Kapoor