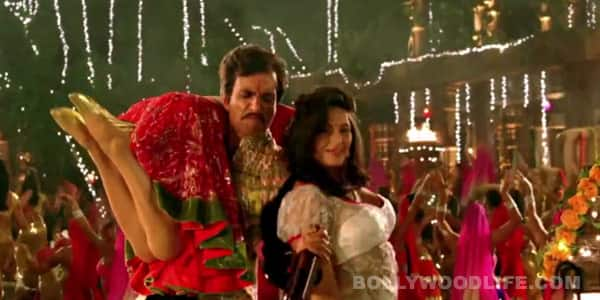 Amidst two hyper-enthusiastic item girls shake their booties and the garishly dressed Sonu Sood having a great fun, our chocolate boy Shahid Kapoor is seen delivering a few punches. What's happening in this song can anyone tell us?
Sonu Sood referred this new item number Kaddu katega from Prabhu Dheva's movie R..Rajkumar, as his version of Munni badnaam hui. But here's our verdict of the song: This number has turned our stomach right over! While Malaika Arora Khan's Munni badnaam was rustic and had raw, electrifying energy to it thanks Mrs Khan's oomph factor, the new item number from the Shahid Kapoor-Sonakshi Sinha starrer is outright repulsive!
As if the garish costume and the two 'heavy-loaded' item gals heaving their well-endowed assets in a vulgar fashion is not enough, you get an overly dressed Sonu Sood who is seen making most of what's on offer and relishing it absolutely uninhibitedly. The music is not very different from what we have heard before either and the lyrics are one of the worst ones that we have ever come across. And then you have Shahid Kapoor who is seen bashing up goons –right, left and centre with his high flying moves.
With the lyrics like Saree ke fall sa to Kaddu katega toh sabmein batega director Prabhu Dheva is surely trying to do something really hatke here. Now you look at this number and tell us how 'tastefully' it is done!
[flv]http://st1.bollywoodlife.com/wp-content/uploads/2013/11/Kaddu-Katega.flv[/flv]