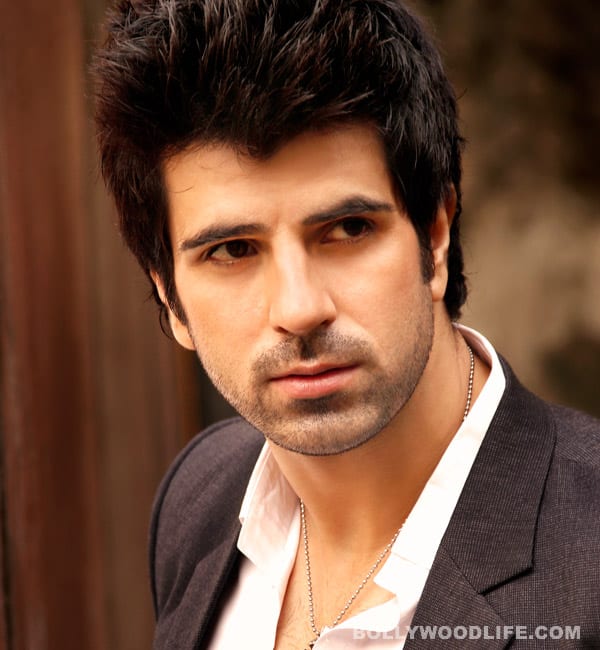 The stud who plays Evelyn Sharma's philandering love interest in Nautanki Saala talks about his journey to his debut role, his martial arts and his take on the Bollywood actor he resembles
At first glance Rufy Khan seems like an all out romantic actor. Standing tall at six feet and with a physique to match, he could be completely at ease in a breezy, mushy film, or perhaps even an out and out action film. But for his debut role, the actor chose to attempt comedy with the role of Evelyn Sharma's cheating boyfriend Loli! His debut was funny enough and got noticed too, even though most of the credit for the film's appeal was shared by the leading duo of Kunal Roy Kapoor and Ayushmann Khurana. But this is only his first substantial role and there is a whole career ahead of him. Check out what this handsome stud is made of…
How tough was it to debut in a comedy? Was it more challenging than an action film?
To get a film with a prominent role with a renowned banner is not easy – you have to go through many rounds of auditions and look tests. Luckily, I managed to cope with all of them and I bagged the role. I never wanted to debut in an action film though I am trained in martial arts and gymnastics. But still, I wanted to prove myself as an actor first in another genre in my debut film, and I worked really hard on my role, to be able to strike the funny chord. There were times when I would lock my vanity van from the inside to practice my set of dialogues aloud – my movements, my expressions – which ultimately polished my performance. But in the future I will surprise my audience with my other skills. I would love to do an action oriented film.
How did you land the role?
Casting director Abhishek Pandey called me for an audition one day and I landed up in the office, not knowing much of what the film was all about or for which banner or who the director was. Fortunately, the director turned out to be Rohan Sippy, who liked my audition performance and looks. He also saw my past work experience – the Hero Honda Scooty commercial (Kataar Singh ke ghar jaana hain) with Priyanka Chopra.
What was it like working with Rohan Sippy?
Rohan is an amazing filmmaker. I remember my first shot was one where I'm seen chatting with Pooja Salvi in a cafe and Ayushmann is watching both of us from afar. Actually, there weren't lengthy dialogues in that particular scene, as it was Rohan Sippy's way of making the actors feel comfortable, by filming a comparatively easy scene in the beginning. He's got a smart sense of direction and also a knack of doing that extra something to make the humorous scenes funnier. About him as a person – he is a cool and settled guy; he gives his actors freedom to showcase their potential and then judges and improves them if need be.
What was it like on the sets?
It was easy-breezy on the sets, as before the film went on the floors, I participated in a 20-day intensive workshop with all the other actors, conducted by Rohan. Initially, my body language was like that of a model, but after two days I settled in. I must admit that the workshop helped considerably to bond with co-stars, ease pressure and perform better. I feel lucky to be groomed as an actor by Rohan personally during this period.
Tell us about your journey so far…
I've done lots of TV commercials in the last five years. The famous ones are the two wheeler Hero Honda Scooty ad with Priyanka Chopra, which gave me instant fame and helped build confidence that working with stars is possible for a new actor like me; then I did a Pepsi ad with Kareena Kapoor and an ad for Santro Cars with Shahrukh Khan and Preity Zinta. Apart from that, I have done print ads and fashion catalogue shoots as well. I also got lots of tempting offers for daily soaps when I was modeling which I rejected, as my goal was to be seen on the big screen and destiny played its role. Nautanki Saala happened at the right time.
Did you always want to be an actor?
I never imagined that I would do films. It all happened while I was still in college. My friends would say I resembled Akshay Kumar a bit lookswise, and I'm totally passionate about martial arts too. My biggest idol in the film industry today is Akshay Kumar. He has influenced me in many ways. In retrospect, I think it's because of him in a way that I'm working here. After completing my engineering, I landed in Mumbai with a dream, although my father was not very happy about this development at the time.
Have you ever been like your character Loli in the film, a philandering Casanova?
I've never ever been like Loli or a Casanova, for that matter. As far as my character in the film is concerned, Loli is a flirt, but at the same time he is an extremely funny guy. So funny, that people have loved him in the film and laughed so much because of him!
What feedback did you get?
Honestly, I hadn't expected this kind of response! When I attended the premier of the film, all the press photographers grouped together to click my pictures and were all praises, saying, 'You did an amazing job' and everybody was lovingly teasing me, 'Loli, zara slowly!' – my dialogue in the film. Ramesh Sippy and his wife also congratulated me for my good performance. Rohan Sippy patted me, saying 'good job'. All this meant a lot to me. In fact, just the other day I went to watch the film with my friends at Inox and people there recognised me during the interval and encouragingly shouted 'Loli is here with us'! I was happy to be recognised, but all this adulation doesn't affect me. I do realise there's still a long way to go for me as an actor. When you perform well in the first film, people expect you to deliver better in the next and I'm very determined to prove my calibre with each and every film.
What did your parents think about it?
My parents loved the film and my role. They feel proud, as many well-known critics have taken notice of my acting abilities and have praised my performance in their reviews. They are now positive about my decision to continue acting in many more films.
Tell us five things that we don't know about you…
I am a civil engineer from the reputed Aligarh University. I'm trained in martial arts and gymnastics. I own a beautiful resort in Kashmir – my hometown. I don't drink alcohol or smoke. I want to work with Farah Khan and Dibakar Banerjee soon. I hope they are reading this!
What is next for you?
I'm working on a film that is yet untitled for which we are planning to shoot songs in Istanbul next month. I wish I could tell you more about it, but you'll hear soon. Apart from that, I've shot for an Alpenliebe TVC which will be on air any time now – you will enjoy it!